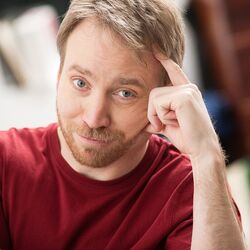 Trevor Devall is a guest voice actor who voiced the Old Man and Pie Hunter in "Video Game References", and Whimsy Beast Boy and Cyborg in "The Fourth Wall".
Other roles
Action Dad - Nun Chuck, Red Skarf, Additional Voices
Avengers Assemble - Rocket Raccoon
Being Ian - Craig, Nash, Additional Voices
Breadwinners - Trash Bandit (Ep. "Trash Bandit")
Class of the Titans - Apollo, Hades, King Minos
Dinosaur Train - Boris Tyrannosaurus, Mr. Deinonychus, Thurston Troodon, Bucky Masiakasaurus
Dinotrux - Garby, Skrap-It
Dragon Booster - Moordryd Paynn
Dreamkix - Sean, Pontelette, Maurice, Rabbit Anchor, Auditioning Rabbit
F Is for Family - Red, Bolo, Mr. Goomer, Additional Voices
Fantastic Four: World's Greatest Heroes - Diablo
Guardians of the Galaxy - Rocket Raccoon, Additional Voices
Hero: 108 - Spotter, Nain
Iron Man: Armored Adventures- Arthur Parkers/Living Laser
Inhumans Motion Comics - Stalyenko, Alpha 1, Namor the Sub-Mariner, Rexel Toiven
Johnny Test - Dukey, Mr. Teacherman (Season 5), Additional Voices (Season 2)
Kid vs. Kat - Burt Burtonburger
Krypto the Superdog - Hot Dog
Lego Star Wars: Droid Tales - Emperor Sheev Palpatine, Admiral Ackbar, Jar Jar Binks, Jango Fett, Tion Medon, Boba Fett, Nien Nunb, Additional Voices
Lego Star Wars: The Yoda Chronicles - Emperor Sheev Palpatine, Ackbar, Bib Fortuna, Tion Medon, Salacious Crumb, Jar Jar Binks, Admiral Piett
Max Steel - Jim McGrath, Metal Elementor, Mega Elementor
My Little Pony: Friendship Is Magic - Hoity Toity, Fancy Pants, Iron Will, Thunderlane, Golden Gavel, Fluffy Clouds, Additional Voices
Slugterra - The King of Sling, Vance Volt, The Gentleman, Additional Voices
Slugterra: Ghoul from Beyond - The King of Sling
Sofia the First - Gunk, Sir Henley, Additional Voices
The Little Prince - Coppelius (The Planet of the Oracle), Joseph (The Planet of Libris), Zig (The Planet of Carapodes)
Ultimate Spider-Man - Rocket Raccoon (2nd Time)
Ultimate Wolverine vs. Hulk Motion Comics - Steve Rogers, S.H.I.E.L.D. Agent, George
VeggieTales - Espresso, Old Man Zucchini
X-Men: Evolution - St. John Allerdyce/Pyro
Zeke's Pad - Alvin Palmer, Ike Palmer, Stanley Steele, Additional Voices
Ad blocker interference detected!
Wikia is a free-to-use site that makes money from advertising. We have a modified experience for viewers using ad blockers

Wikia is not accessible if you've made further modifications. Remove the custom ad blocker rule(s) and the page will load as expected.