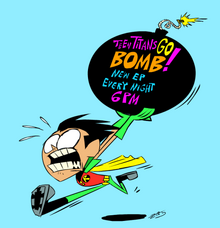 Teen Titans Go! has had a total of four Titan Bombs so far with a fifth one on the way. The first Titan Bomb began on June 29, 2015 and ran until July 3rd at 6:00 EST. The second Titan Bomb began on July 27, 2015 and ran until the 31st at 6:00 EST. The third Titan Bomb began on October 19, 2015 and ran until the 23rd at 6:00 EST. The fourth Titan Bomb, which was the Island Adventures 5 part special, began on August 1, 2016 and ran until the 5th. The fifth one will run from August 1, 2017 until the 4th.
Listings
Titan Bomb 1
Titan Bomb 2
Titan Bomb 3
Titan Bomb 4
Titan Bomb 5
Trivia
Ad blocker interference detected!
Wikia is a free-to-use site that makes money from advertising. We have a modified experience for viewers using ad blockers

Wikia is not accessible if you've made further modifications. Remove the custom ad blocker rule(s) and the page will load as expected.