Tim Drake is a minor character in Teen Titans Go! who made a debut in "The Best Robin." In addition, he is a current member of Team Robin. He is voiced by Scott Menvile.
Bio
TBA
Physical Appearance
There is not too much of a difference between Tim and Dick Grayson - their costumes are the same and yet different; Tim Drake's is red and yellow with a black cape, while Dick has green gloves and pants. His hair is combed downwards, and his mask looks more sinister and serious.
Abilities
As a normal human being, Tim Drake does not have any powers, like Robin. However, Tim seems to have the same abilities Robin has.
Peak Human Strength: Surpasses the average human in terms of strength, endurance, and stamina.
Skilled Hand-to-Hand Combat: Like all the Robins, Tim is skilled in hand-to-hand combat.
Pain Tolerance: Is able to dislocate and relocate his elbow with minimal discomfort.
Episode Appearances
Trivia
Tim Drake design seems to be inspired by his appearance in Young Justice: Invasion.
Tim Drake is the third Robin as the first one being Dick Grayson and the second being Jason Todd.
This is the second time that Scott Menville voiced Tim Drake, The first time was in the 2003 video game Batman: Rise of Sin Tzu.
His personality is based off Jason Todd's from the comics.

In the DCAU, Tim Drake is based primarily on Jason Todd.

In the bonus feature "Comics Creations: From Comics to Cartoon" (from the Teen Titans: Divide and Conquer DVD), a producer stated that the Robin in original show was based on Tim Drake, In fact Robin's personally and overall appearance in the original series is based on Tim, In 2008 an official DC website titled DC Hero Zone confirms him to be Tim Drake.

However Teen Titans Go! counters this, referencing him as Dick Grayson. Not too big of a deal, but it still is a little controversy.

He is good at massaging people as shown massaging Starfire and Raven.
Later in the comics, Tim Drake is known by the new name "Red Robin".
Gallery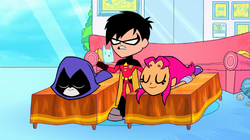 The image gallery for Tim Drake may be viewed here.