"Throne of Bones" is the forty-first episode of the fourth season of Teen Titans Go!, and the one-hundred-ninety-eighth overall episode of the series.
Summary
When the other Titans start listening to heavy metal music, Robin warns them of the dangers.
Plot
TBA
Characters
Trivia
This episode premiered a year after "Booby Trap House".
The style of metal and jazz fusion is most commonly associated with "jam bands" such as Phish and progressive rock bands like Pink Floyd and the Talking Heads.
It is revealed that Robin is fond of jazz instead of death metal, and can play the saxophone skillfully.
Continuity
Raven is unhooded for the 72nd time.
This episode isn't the first time a Titan was disgusted by bone furniture. In "Booty Scooty", Cyborg in particular was creeped out by a piano made out of bone.
The demonic graphic for Demon's Tongue Mountain, first seen in "Rad Dudes with Bad Tudes", is reused as a stage prop at the heavy metal concert the Titans accidentally attend.
References
The amp that goes up to eleven is a joke from the 1984 film, This Is Spinal Tap, a mockumentery about a fake band called "Spinal Tap".
Raven's metal hairstyle resembles Ashi from the fifth season of Samurai Jack.

Ironically, both Raven and Ashi are cambions and both are voiced by Tara Strong.

The hand gesture the Titans make while thrashing to metal music is often referred to as "the sign of the horns" or the "rock on" hand gesture. It's typically made with the thumb over the ring and middle finger. The Titans made this hand gesture with the thumb extended, which also happens to be sign language for, "I love you".
Recording a message or music backwards onto a record that is meant to be played forward is called "backmasking". Musicians of all kinds have used this recording technique in the past for a variety of reasons. Some bands, particularly metal bands, have been accused of using back-masking to record demonic messages.
The episode title itself is a reference of the TV show series Game of Thrones.

In addition, the general theme of hardcore music being an outlet for violence in this episode is most likely a reference to the violence in Game of Thrones and the show's success.
Errors
When the guitarist strums his electric guitar, the noise obviously breaks Cyborg's non-human eye but in the next scene, the eye is unbroken. 
Robin asks the other Titans if they knew what a record was. None of them knew but however, Cyborg, in earlier episodes, seemed to know what they were. 
Running Gags
Robin playing smooth jazz.
The Titans (excluding Robin) making stuff and saying, "SO METAL!"
Transcript
The transcript for "Throne of Bones" can be found here.
Gallery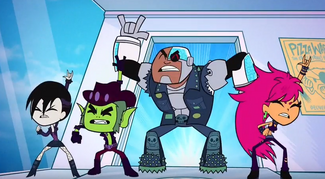 The image gallery for Throne of Bones may be viewed here.