Terra
Name
Terra
Alias
Tara Markov
Sex
Female
Species
Human
Friends
Beast Boy (Lover, one-sided on his side)

Slade (Master)

Enemies
Raven
Occupation
Evil Apprentice
Voiced By
Ashley Johnson
Terra is a villain apprentice character in Season 1 of Teen Titans Go! and is also confirmed to make an appearance in Season 2. She debuted in Terra-ized.
Bio
Terra is a villain in the episode Terra-ized. In the episode, she pretends to be Beast Boy's girlfriend in order to gain access to all of the Titan's files. It can be implied that she is stealing them for Slade, as she calls what we assume to be him on her phone to give him an update on her mission.
She appears to have no feelings for Beast Boy at all, and is simply using him as a pawn in her scheme. She even attempts to kill him several times throughout episode, but always fails.
Though all the other Titans are blinded by her disguise, Raven discovers her secret. Having her cover blown, Terra captures the Titans (minus Beast Boy). After she ties up the Titans, Terra attempts to leave the tower, but is stopped by Beast Boy, who thinks she is leaving him. Terra uses her powers to create a gigantic boulder, and nearly kills Beast Boy, if not for Raven escaping and stopping her.
A fight ensues between Raven and Terra. Her ultimate fate is sealed when Raven opens a portal to another dimmension, and she is sucked inside, possibly forever. There is a chance that Terra may return in the future, as she is confirmed to have an appearance in Season 2 (Though it could be a flashback or hallucination).
Episode Appearances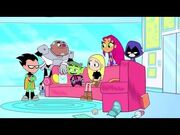 Trivia
Terra's voice actor, Ashley Johnson, voiced Terra in the original Teen Titans series.
At the San Diego Comic Con 2013, "Terra-ized" was shown, along with another future episode with Terra (although it was only concept art and story board) that would be in Season 2.
Terra was seen a number of times talking to someone in her walkie talkie, which is most likely Slade, her boss/master in both the comics and the original series.
Unlike Terra in the original series, this version seems to have full control of her powers, which is more accurate to the comics. Terra from the original series took a long time to control her powers, and she still wasn't 100% perfect.
Terra is the third character to be banished to another dimmension, the first being Ed (though he eventually escaped) and the second being Trigon.

Terra's evil smirk

Added by

CaptainDinobot

Terra's outfit based off from Titans Rising; an episode from the original series. It's exactly the same only without the Titans T on her shirt.
Terra does not seem to like Beast Boy that much in this series, which was completely different in the original where she really likes him. It is possible that this Terra was designed to be more like in the original comics, where she was a loathing psychopath.