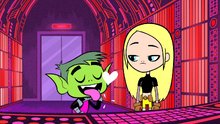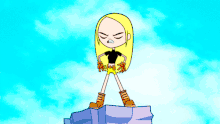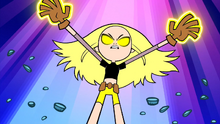 Terra (Tara Markov) is the villain-apprentice of Slade and enemy to the Titans who made her debut in Terra-ized.She is a villainess who possesses the ability to telepathically manipulate the earth. Under the employment of an unknown figure, Terra pretended to have romantic feelings for Beast Boy to trick him into giving up the Teen Titans' secret files. However, she was discovered by Raven and subsequently trapped in the Trash Hole. Six months later, she escaped and swore revenge on the Titans, but was once again thwarted by Raven. During her temporary freedom, Terra was touched by Beast Boy's genuine feelings toward her and her hatred for him boiled down to only a mild annoyance.
Biography
Terra makes her debut as a villain in the episode, Terra-ized. In the episode, she poses as to be Beast Boy's girlfriend in order to gain access to all of the Titan's secret files. It can be implied that she is stealing them for Slade, as she calls what is assumed to be him on her phone to give him an update on her mission. Terra dislikes Raven very much due to her defeat in a battle with Raven at the end of the episode.
Though all the other Titans are blinded by her disguise, Raven discovers her secret. Having her cover blown, Terra captures the Titans (minus Beast Boy). After she ties up the Titans, Terra attempts to leave the tower, but is stopped by Beast Boy, who thinks she is leaving him. Terra uses her powers to create a gigantic boulder, and nearly kills Beast Boy, if not for Raven escaping and stopping her. A fight ensues between Raven and Terra, which ends with Raven opening a portal to another dimension, and Terra gets sucked inside.
In Be Mine, she escapes from the dimension with Beast Boy's help, and attempts to exact revenge on the Titans using a pair of gauntlets that amplify her powers. Raven reveals Terra's treachery to Beast Boy, causing him to become depressed. Later, during a valentine's dance, she tries to kill the Titans, leaving Beast Boy for last. However, he serenades her, with his special song for her, Fade Away, which deeply touches her. An enraged (and heartbroken) Raven then throws her back into the dimension she escaped from earlier, with Beast Boy jumping in after her.
Her opinion on Beast Boy is unknown after he sang the song to her, as she never got the chance to say anything else, as she was interrupted by Raven, and charged head on to attack her, only to be easily stopped by Raven's magic and banished to the dimension hole again, with Beast Boy jumping in after her to her apparent annoyance.
In Rocks and Water, Terra returns again having escaped the trash hole along with Beast Boy. However Beast Boy still misses her and pesters her with endless calls, leading her to arrive at Titans Tower to attack him and the other Titans. She reveals that she is now dating Aqualad. A jealous Beast Boy and Raven (who still had a crush on Aqualad), decide to pretend they are dating to make Terra and Aqualad jealous. They go a double date, where Terra and Aqualad are confused by Beast Boy and Raven's excessive pretend flirting. However, their plan does not work as Terra and Aqualad remain together. They then work harder to drive a wedge between Terra and Aqualad by ruining all of their moments together. Terra and Aqualad get more and more annoyed with each other until they are on the verge of splitting up, however they eventually spot Beast Boy and Raven, figuring out they're responsible for the sabotage. Terra and Aqualad attack them, but once again Terra gets dropped into the trash hole, along with Aqualad.
Terra appears again in I'm the Sauce. It is unknown how she came out of the trash hole, but her rivalry with Raven is shown again. She was one of the many villains who participated in a game of Heads Up-Seven Up led by Robin as he tried to cheer up the clouds and make the rain stop. She refused to participate at first, but agreed when Robin bribed them with chocolate milk. Her finger was tapped by Cyborg, but Terra assumed it was Raven and raised a boulder to crush her. Raven smugly shook her head and the boulder fell on Terra and exploded. After the game was over and the clouds cheered, Terra celebrated with the other villains and Titans by drinking their chocolate milk.
Appearance
Terra is a tall, pale, teenage girl, with blonde hair. She wears a black short-sleeved shirt, that ends just above her navel. She also wears short yellow shorts, a thick brown belt with a circular buckle, and a pouch on her left hip. She also wears gloves and boots of the same color. She has big, sky-blue eyes. Her mouth design is slightly similar to Robin's.
Powers and Abilities
Terra possesses the elemental power of geokinesis/terrakinesis, giving her the ability to reshape, control and manipulate the earth and earthly substances. When using her abilities, her gloves glow with a yellow aura, and sometimes her eyes, when she uses her full powers.
Appearances
Season 1
Season 2
Season 3
Other Media
Comic Books
Games
Relationships
Somewhere along the line, Terra met up with Beast Boy, and he fell instantly smitten with her. He brought her back to the tower, and introduced her to the others, claiming she was his "girlfriend". Terra was annoyed at Beast Boy, but humored him, just to gain access to the Titans' secret vault. After she trapped all the Titans (except Beast Boy) and had stolen the plans, she attempted to leave, but Beast Boy stopped her, thinking she was leaving him. Later on, while trapped in the other dimension, she planned to kill the Titans, especially Beast Boy (even though it was Raven who trapped her). When Beast Boy brought her back, he asked her to be his valentine, and she accepted, then left to get him a "gift" (which was actually a weapon to destroy him). When Raven discovered this, she showed Beast Boy, who ran away, planning to win Terra over. That night, when Terra attacked the Titans, Beast Boy began to serenade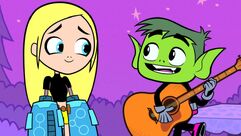 her with a
song he wrote
. Terra was flattered, and finally began to fall for Beast Boy. Raven attacked her and trapped her into the other dimension, but Beast Boy followed, swearing he would never lose her again. She was very annoyed at being in the other dimension, but no longer hates Beast Boy, and allows him to lick her face. However, soon after that (unseen in the episode, but shown in a flashback in her next appearance) she gets tired of the song and breaks up with Beast Boy.
In Rocks and Water, Beast Boy is crying, depressed about his break up with Terra. He tells Raven this who feel the same way about her ex-sweetheart Aqualad. A flashback shows, in the trash hole, Beast Boy kept singing Fade Away to Terra which she liked but then got annoyed with.
Beast Boy asked Raven to use her powers to pick up a rock and smash him with it, just like if Terra was here. Beast boy called Terra up on the Titans Communicator stating "I love you". Terra appears at the Tower enraged. Beast Boy assumes she came back for him. Terra explains she has a boyfriend, when Aqualad shows up, making Raven jealous. Raven and Beast Boy pretend to be going out to make them jealous. The two couples and Robin and Starfire triple date with cyborg being the third wheel. Terra and Aqualad get into an argument when Terra eats the calamari but make up. Beast Boy and Raven agree to try to break them up. Terra and Aqualad officially break up after their tricks.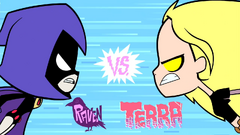 Raven and Terra are arch-rivals. In Terra-ized, Raven was jealous of Beast Boy taking a liking to Terra. When she discovered Terra was evil, she tried to warn the Titans, but nobody believed her and they accused her of being jealous. In the end, she trapped Terra into another dimension. When she returned, Raven instantly began spying on Terra. When she discovered Terra was still out to get them, she told Beast Boy, but this time she had proof. That night, when Terra attacks the Titans, Beast Boy wins her affections through a song he wrote for her, provoking Raven's jealousy. Terra seemingly begins to fall for Beast Boy, but an envious Raven attacks her, banishing her into the other dimension again.
Terra is shown to be dating Aqualad in Rocks and Water. Although Terra admits that she and Aqualad may have only gained a liking towards each other through their hatred towards the Titans. Other than that, Terra and Aqualad couldn't get agree on anything, and Beast Boy and Raven kept pulling pranks to break them up. Terra and Aqualad broke up, agreeing to see other people.
Trivia
Quotes
The quotes for Terra can be found here.
Gallery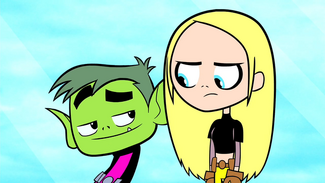 The image gallery for Terra may be viewed here.