About the Show
Teen Titans Go! features hilarious, all-new adventures of Robin, Cyborg, Starfire, Raven and Beast Boy. Sure, they're still superheroes who save the day, but what happens when they're done fighting crime? They love to have fun and goof off, but they also have to deal with the issues of being five teen roommates, whether that's chores and romantic tension or demon dad drop-ins and impromptu meatball parties. There's no shortage of pandemonium in the Tower as the Titans get up to super-powered hijinks and fantastic pranks. Join the Teen Titans and see what sort of comedy chaos their rivalries and relationships cause next.
News
Watch the following video to see art diretor Dan Hipp talk about a few easter eggs within TTG.
Teen Titans Go! was nominated for a Kids Choice Award!
Teen Titans Go! The Complete Season is now on Blu-Ray!
The Main Characters
Polls
Season 2 is officially over! What did you think of it?
Who is your favorite voice actor?
Latest Episode
TTG v PPG
Upcoming Episode
Island Adventures
Latest Promo Clip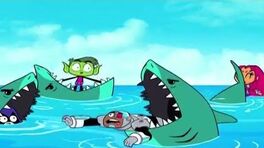 Table of Contents
Character Guide • Episode Guide • Comics • Games • DVD's • Songs • Objects • List of Locations • Policies