The Teen Titans are the main protagonists of Teen Titans GO!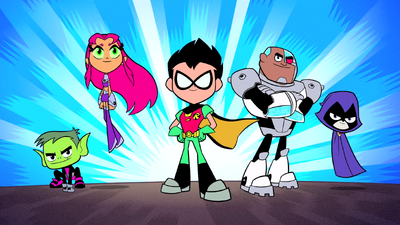 Bio
They are a superhero group consisting of young heroes who have tasked themselves with protecting the world or even the universe if need be. They're mission: to fight for truth, justice, and the last slice of pizza. They primarily operate in the West side of the United States, specifically Jump City, where their headquarters and home, Titans Tower, is located. Whether it's giant slime monsters, bank robberies, or their diabolical arch foes, the Titans are always there, ready for action.
Members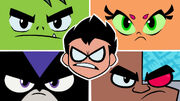 Current
Honorary Titans
Former
Little Buddies
Employees
Affiliations
Rivalry
The Teen Titans' main rival is the H.I.V.E. Five. Their main difference is that the Titans are superheroes, and the H.I.V.E. are supervillains. But they are both very similar in many ways. Both have 5 members, both have a tower shaped like the first letter of their team name, both of the towers are located outside the city on a seperate island, and both operate in Jump City.
Trivia
Gallery