Tara Strong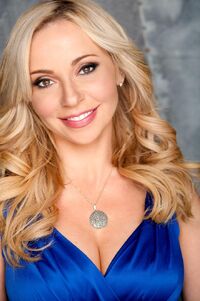 Role   -   Voice Actress
Character   -   Raven
Date of birth   -   February 12, 1973
Tara Lyn Strong
(
Tara
Charendoff
) is a Canadian actress, voice actress and singer who is the voice of
Raven
in
Teen Titans Go!
as well as the previous series
Teen Titans
and in the
New Teen Titans
animated shorts
.
Other roles she is known for is her voice acting for Dil Pickles in Rugrats and it's spin-off series All Grown Up!, BeBe and CeCe Proud from The Proud Family, Bubbles in the original Powerpuff Girls series, Timmy Turner and Poof from The Fairy OddParents, Sari Sumdac from Transformers Animated, Ben Tennyson from Ben 10, Ben 10: Ultimate Alien, Ben 10 Omniverse, and the Ben 10 reboot, Twilight Sparkle from My Little Pony: Friendship is Magic, Truffles in Chowder, Mary Jane Watson in Ultimate Spider-Man, Ilana in Sym-Bionic Titan, Terrence in Foster Home for Imaginary Friends, Melody from The Little Mermaid II: Return to the Sea, Singe from DreamWorks animated television Turbo FAST, and Batgirl from The New Batman Adventures plus many more voice roles.
She also reprised her roles of Harley Quinn and Poison Ivy in DC Comics' animated web series, DC Super Hero Girls and been confirmed to reprise Raven in the series as well. She also played a role of Miss Collins on the Nickelodeon show Big Time Rush and reprised her role of Batgirl in the DC animated movie, Batman: The Killing Joke.
Teen Titans Go!
List of characters voiced by Tara Strong in Teen Titans Go!:
Female Receptionist
Opposite Gender Robin
Other TV Shows
Ben Tennyson (Ben 10; 2005, Ultimate Alien, Omniverse, and 2016 series)
Timmy Turner and Poof (The Fairly OddParents)
BeBe and CeCe Proud (The Proud Family)
Bubbles (The Powerpuff Girls; 1998-2005 series)
Twilight Sparkle (My Little Pony: Friendship is Magic; Equestria Girls)
Truffles (Chowder)
Dil Pickles (Rugrats; All Grown Up!)
Omi (Xiaolin Showdown; Xiaolin Chronicles)
Princess Clara and Toot Braunstein (Drawn Together)
Ember McLain and Penelope Spectra (Danny Phantom)
Princess Ilana (Sym-Bionic Titan)
Boh (Spirited Away; US Dubbed)
Ashi (Samurai Jack)
Melody (The Little Mermaid II: Return To The Sea)
Angel (Experiment 624) (Lilo and Stitch The Series)
Mushi Sanban (Codename: Kids Next Door)
Terence (Foster's Home For Imaginary Friends)
Bebe and Cece Proud (The Proud Family)
Daizy (Wow! Wow! Wubbzy!)
Plum (Bravest Warriors)
Unikitty (Unikitty!)
Trivia
Since Tara Strong voices Twilight Sparkle in My Little Pony: Friendship is Magic, she is probably the reason why Raven loves Pretty Pretty Pegasus which is a parody of My Little Pony.
Greg Cipes sometimes calls her "mama" which is the same nickname Beast Boy calls Raven at times in the show and even called her a "hot mama" during the SDCC 2014 interview.
She and Greg Cipes do what they call "Fondle Fridays" where they take a ton of selfies together and post them on Twitter.
She (along with Greg Cipes) is also a vegetarian. She has been a vegetarian since the age of 16 and she is also Jewish.
According to behind the scenes of Teen Titans Go! Trivia promo on CN, she proudly supports the relationship and romantic interaction between Beast Boy and Raven. Claiming they make "the better fit". She has also has shown her love for the pairing of the two through tweets several times on her Twitter account.
She shares the same birthday with Scott Menville.
Scott Menville refers to call her his "superhero sister". Possibly due to the fact she voices Raven which seems to be like a sister to his character Robin.
She is also known by the majority of the My Little Pony fandom as the "Queen of Bronies" which the word "brony" is a fandom term for male My Little Pony lovers and watchers.
She also the re-dub voices of She-Hulk (The Incredible Hulk) from the classic Marvel cartoons into comical shorts as part of Disney XD's Marvel Mash-Up shorts.
She is a fan of the men's pro basketball team the LA Clippers.
She was replaced by Kristin Li for the voice of Bubbles in The Powerpuff Girls 2016 reboot.
She was also the voice of Penny since her characters' original voice actor Cree Summer has been replaced from the Inspector Gadget 2014 reboot.
She had reprised her role of Ben Tennyson in the Ben 10 2016 reboot, which premiered in April 2017.
Outside her voice role as Raven, she appeared for the first time as herself in Teen Titans Go! in the episode, "The Self-Indulgent 200th Episode Spectacular!", along with the rest of the cast, in honor of the success of recording over 200 episodes for the series.
She voiced Unikitty, a character from a Lego movie-based spin-off show with the same title.
External Links
Gallery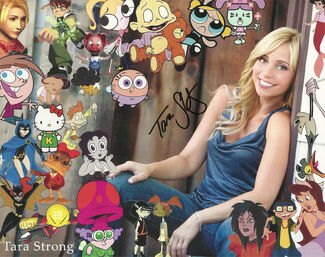 The image gallery for Tara Strong may be viewed here.