Slade Joseph Wilson (aka Deathstroke the Terminator), or commonly referred to as Slade, is the archenemy of the Teen Titans, and also is the arch-nemesis of Robin. He is set to have his first speaking debut and major role in Teen Titans Go! to the Movies, voiced by Will Arnett.
History
Slade, best known as the world's greatest enemy, is the Teen Titan's greatest enemy, particularly Robin's, who will stop at nothing to destroy them. Although he was the primary villain in the original Teen Titans series, Slade did not make any actual appearances in Teen Titans Go! until "The Titans Show".
Slade makes a brief appearance in the comic Silicon Valley Cyborg. When Robin asks Cyborg if he can be the VP of security, Cyborg tells him that he has already given the job to Slade. And with that, Slade sneaks up behind Robin and smacks him on the head.
Throughout the show there are small, brief hints of Slade, such as on Robin's punching bag in "The Date". Slade has also affiliated with some other characters in the Teen Titans Go! series. Like, Terra (possible apprentice/servant) and Rose Wilson (daughter).
Episode Appearances
Season 1
Season 2
Season 3
Season 4
Film
Comics
Other Media
Relationships
Slade sent Terra to infiltrate and destroy the Teen Titans. Terra posed as Beast Boy's girlfriend in order to get the Titans most sensitive files. Terra ends up battling Raven. Terra ends left in another dimension alone for months.
Slade's daughter, Rose Wilson, is a well known thief. She seems to not be impressed with her father's high level of crime. Even though he bought her two swords that she uses often. This implies that their relationship is similar to Raven and Trigon's.
TBA
TBA
References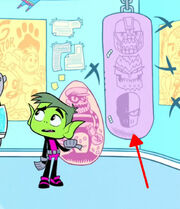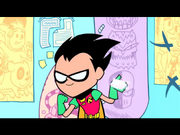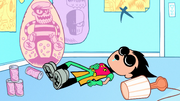 Trivia
Gallery
The image gallery for Slade may be viewed here.