Mama's little bumgorf, no!

--Starfire

Silkie (Larva-M3-19) is a main character in Teen Titans Go!. He is mainly Starfire's pet, but seems to have relationships with all of the Titans.
Bio
Silkie was created as Larva M3-19 by Killer Moth for use in an army of giant mutant moths to overthrow and dominate Jump City. However, Killer Moth had to set back certain parts of his plan when his spoiled daughter Kitten, angry about her recent abandonment by her boyfriend "Fang", decided to blackmail Robin into becoming her date for her Junior Prom. The plan failed spectacularly, and upon the destruction of the moth control device by Robin, all the mutant moths reverted from adult into larva state. Beast Boy took Silkie home to the tower and gave it to Starfire when she found out.
Biography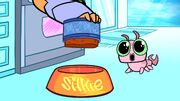 Silkie has also appeared in almost every Teen Titans Go! episode. As seen in the episode La Larva de Amor, Starfire loves Silkie so much that she attacks her friends when they fail to keep track of him. Also in the same episode, Silkie develops a, extremly onesided, relationship with a Mexican woman known as Sonia Conchita Hernández, and saves her from Carlos. It is shown in the episode, Driver's Ed, the berries that Starfire has are bad for him. They make his face swollen and puffy.
Appearance
Silkie is a small pink mutant moth larva with light green eyes. He has six nub-like legs, and two antennae. He also seems to have a spot-like design on his body.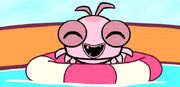 Inside his mouth he has pointed yellow teeth resembling those of a dog.
Episode Appearances
Episodes Focusing on Silkie
Other Appearances
Season One
Season Two
Comics
Trivia
Gallery
The gallery for Silkie can be viewed here.