The Puppet Tiger is a minor character who made his debut in "Puppets, Whaaaaat?".
Bio
In "Puppets, Whaaaaat?" the Puppet Tiger chased the puppet Teen Titans while running through the Jungle Scene.
When the puppet titans find a dance club scene they found the Puppet Tiger and it started chasing them.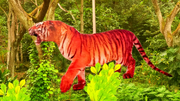 Appearances
Season 1
Trivia
He is very similar to "Giant Realistic Flying Tiger" from the Uncle Grandpa series.
The Puppet Tiger seems to made the same way Beast boy's puppet animal modes.
The Puppet Tiger is the only puppet character that is also only a minor character.
Ad blocker interference detected!
Wikia is a free-to-use site that makes money from advertising. We have a modified experience for viewers using ad blockers

Wikia is not accessible if you've made further modifications. Remove the custom ad blocker rule(s) and the page will load as expected.