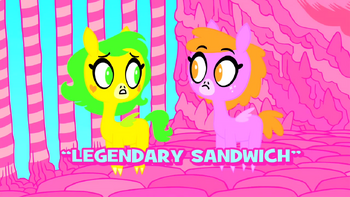 Pretty Pretty Pegasus is a fictional television show that Raven is a huge fan of. The series also has a line of toys, a complete collector's edition, and a novel that Raven also has.
History
Raven seems to enjoy the show very much, as she tends to play with the show's corresponding figurines a lot. Robin may be interested in it as well, as he suggested watching it at the end of the episode "Legendary Sandwich". It is assumed that Trigon enjoys it too, because in "Dog Hand", he is seen with a Pretty Pretty Pegasus kite.
It also appeared in "Super Robin", in which Raven was watching it on her laptop and she seemed comfortable watching it in front of the other Titans now. Two Pretty Pretty Pegasus figurines (Sparkle-face being one of them) are seen being played with by Raven when the other Titans cannot see her play with them in "Meatball Party". In some episodes such as "Starliar" and "Matched", a poster of Pretty Pretty Pegasus can be seen in the Tower.
The ponies in Pretty Pretty Pegasus play an important role in "Nose Mouth" in an imaginative sense. All of the show's characters seen so far are in this episode, one even being introduced. Also, at the end of the episode, all of the Titans, thanks to Raven, are transformed into ponies. Robin was also seen hurting Sparkle-face using his staff in "Sleep Fighter ll".
Pretty Pretty Pegasus is seen yet again in the episode "Knowledge". Raven is shown to be briefly playing with her Pretty Pretty Pegasus dolls right before Starfire comes into view and says "dolls are meant for babies" while under the Starfire's Knowledge control.
After Raven is bitter with Starfire hanging with her father, Trigon, she is seen playing with her Pretty Pretty Pegasus dolls, with Butterbean, Sparkleface, and Jelly Roll (called "King Jelly Bean") who have been recolored to match Raven, Starfire, and Trigon (respectively). She has Sparkleface accepting caramel apples from King Jelly Bean, and Butterbean getting angry at Sparkleface and fighting with each other. However the real Trigon and Starfire appear, and she nervously tosses the dolls away.
Pretty Pretty Pegasus appears in the episode "Friendship". There, the Teen Titans are trapped by Control Freak inside a random television playing an episode of Pretty Pretty Pegasus. The Titans aside from Raven, all try and convince the innocent ponies to abandon their friendly ways of handling situations, and replace it with violence and anger. In the end, Raven manages to teach both her comrades and the Pretty Pretty Pegasus ponies how friendship is power, and that violence will not cause any good.
In the episode "Halloween", Raven wears a Pretty Pretty Pegasus pony costume. Proving that her initial embarrassment of liking the series in "Legendary Sandwich" that she no longer feels awkward with openly showing her interest in the series.
It is revealed in "Road Trip" that the television series also has at least one novel published. Raven is shown to be reading "Pretty Pretty Pegasus: The Novel" while riding in the back seat of the T-Car on the road trip.
In "Hose Water", after Raven tells Starfire she hates colorful things, as soon as Starfire leaves she rubs her face against Sparkleface, and assures her she didn't mean that.
In "Let's Get Serious", the Pretty Pretty Pegasus dolls briefly appear in the Serious Song, where Serious Raven smashes them with her fist.
In "The Return of Slade", Butterbean and Sparkleface briefly had a "hardcore" design on Raven's DVD of the series, due to Honk managing to take anything children related and making it inappropriate.
Episode Appearances
Season 1
Season 2
Season 3
Season 4
Characters
Trivia
Gallery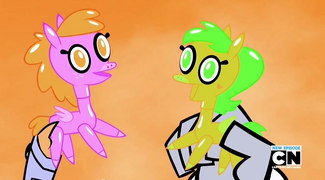 The image gallery for Pretty Pretty Pegasus may be viewed here.