Plasmus (Otto Von Furth) is a super mutant villain and an enemy of the Teen Titans. He made his debut in "You're Fired!".
Biography
TBA
Physical Appearance
Plasmus is a dark purple sludge monster with multiple green, acidic eyes that are outlined in black. He is enormous, being taller and wider than many buildings in Jump City. However, he can turn back to normal in human form only when he's put into sleep. When he is asleep he is a skinny human.
Powers and Abilities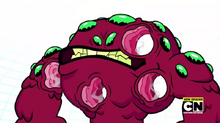 The list below only contains those displayed in the show (so far):
Super Strength: Able to crush a planet's core.
Enhanced Speed: He was able to dodge and attack the Titans with ease.
Invulnerability: The Titans were unable to harm him.
Acidic Saliva : He can spit very strong acid.
Malleability: He can reshape and remold his liquidy body at will.
Episode Appearances
Season 1
Season 2
Season 3
Season 4
Comics
Games
Trivia
In the original series, Plasmus is portrayed as a tragic villain who was once a human but in this series, he is portrayed as a mindless, rampaging monster, who is easily defeated.

His human form hasn't appeared in Teen Titans Go! because when he's defeated, he stays in his sludgy monster form as shown in "Some of Their Parts".

He is the sixth villain from the original series to return.
In the original series he was voiced by Dee Bradley Baker but got replaced by Scott Menville in Teen Titans Go!.
His mouth resembles Wildmutt and Mot Snikrep from Ben 10. His body also resembles Cannonbolt from the same series.
In the original series he worked for Slade, along with Cinderblock and Overload.
He appears to be much more muscular than he was in the original series.
Gallery