"Oregon Trail" is the 48th episode of the third season in Teen Titans Go! and the 152nd overall episode of the series.
Summary
Robin forces the others into an 1800's-style adventure, complete with covered wagons, attacks from the elements, and dysentery! Yay?
Plot
TBA
Characters
Hug Head (debut)
Ghost Beast Boy
Ghost Starfire
Ghost Raven
Ghost Cyborg
Song
Trivia
Starfire's shows her affection for a bull (Hug Head) for the first time.
Continuity
References
The title, and much of the plot, are references to "Oregon Trail", an educational computer game from the 1980's and early 1990's where the player had to survive the hardships of the trail to get to Oregon.

The graphics and "menus" are lifted from the game, down to the green texts.
Robin suggests you could meet anyone on the Oregon Trail, like "a farmer from Illinois or a carpenter from Ohio". These are two of the three choices for your character, chosen at the start of the game. (The third is a banker from Massachusetts.)
The hunting round is lifted directly from the game, along with the restriction that you can't carry more than 100 pounds back to the wagon.
The Titans' hats are ones associated with 19th-century America. Robin wears a coonskin cap, Beast Boy a standard cowboy hat, Starfire a lady's bonnet, Raven a babushka (which was popular with women from Eastern Europe), and Cyborg a Confederate soldier's hat. (However, note that coonskin caps really became popular in 1955 after their use in Disney's "Davy Crockett" miniseries, and the Civil War was fought in the 1860's while Oregon Trail was set in the 1840's.)
Beast Boy's death is a parody of the "X has died of dysentery" meme spawned by this game.

Before shooting a buffalo, Robin shouts: "Say hello to my little friend!" which is a famous line from the movie Scarface.
Errors
When Beast Boy's leg is injured, he yells, "My left leg!" But it's his right leg that's been broken.
Running Gags
Robin ignoring Beast Boy's injuries and questioning the other Titans if they should keep moving forward down the trail.
Robin telling the other Titans to use numbered choices as if they were in a video game.
The Titans getting sick and dying.
The Titans, other than Robin, having a good time as ghosts.
Gallery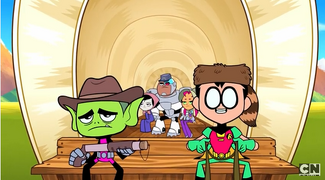 The image gallery for Oregon Trail may be viewed here.
Source
http://www.toonzone.net/forums/threads/cartoon-network-september-2016-premiere-info.5561291/.html
Ad blocker interference detected!
Wikia is a free-to-use site that makes money from advertising. We have a modified experience for viewers using ad blockers

Wikia is not accessible if you've made further modifications. Remove the custom ad blocker rule(s) and the page will load as expected.