"Orangins" is the twenty-second episode of the fourth season of Teen Titans Go!, and the one-hundred-seventy-ninth overall episode of the series.
Summary
The Titans each tell their own slightly inaccurate origin stories.
Plot
It all begins when Robin breaks the door and is going to tell his story. Cyborg happily says that he loves stories. Robin tells him that it's an origin story, which Beast Boy mishears orange. As soon as Robin tells his origin story about him as a clown, the other Titans stop him due to their boring way. However, Raven tells her inaccurate story about her going to the lab where she gets bitten by a raven and turns into Raven-Women. Her tragic is that her uncle died.
The Titans except Robin cry about her tragic. Robin tells Raven that it was Spider-Man's story. Cyborg tells his inaccurate story about him escaping from a terrible explosion that killed his parents. Now he lives in a farm with stepparents who have always wanted a child. He becomes Cyborg-Man. His tragic is that his stepparents got old and lost their barn. And yet again it"s the same thing. Robin tells Cyborg that it was Superman's story.
Starfire tells her inaccurate origin story about her younger self walking home from the movies with her cats and as she walks into an alley, a dog scares her and the cats, chasing them away which causes Starfire in a depression. Now she goes into cave and becomes a superhero, Batfire with a gang of cats and she hears a crime alert and fights crime. Her tragic is that her legs broke and still the same thing. Robin tells her that it was more like Batman's story.
Beast Boy tells his inaccurate story about him beating up the bad guys. One day, a green person gave him this ring to keep for good to defeat reds, oranges, and yellows. This time, the Titans especially Robin didn't cry. Robin tells Beast Boy that it was more like Green Lantern's story and wasn't even an origin story. His tragic was that he wasn't real.
Characters
Abin Sur (debut, cameo)
John Stewart (cameo)
Superman (referenced by Cyborg)
Batman (referenced by Starfire)
Spider-Man (referenced by Raven)
Dr. Light (cameo in Raven's fake origin story)
Trivia
This is the third episode to feature each Titan telling a different inaccurate story or fable. The first two were "Grube's Fairytales" and "History Lesson".
The episode title is a play on the words "orange" and "origins", as mentioned by Beast Boy.
Spiderman is mentioned/referenced for the second time in the series. The first being brought up in "Two Parter" (Part 2).
Robin briefly explains a little about Beast Boy's real origin where he was indeed bitten by a diseased monkey as a child which granted him his superpower of animal shapeshifting and turned his skin and hair green.
Raven's origin story parodied Spider-Man; coincidentally, her voice actress, Tara Strong, voiced Mary Jane in Marvel's Ultimate Spider-Man series.
"Orangins" was nominated for the 2017 Primetime Emmy for Outstanding Short Format Animated Program.
The music used when Robin walks in the room is music similar to what is used during the previews for suspenseful, action-packed movies, or suspenseful, action-packed Sci-Fi movies.
Continuity
Green Lantern's design in this episode is different from his design in "

Real Boy Adventures

".

The circus that Robin said was his origin is probably the same circus as when he was a baby in "Dude Relax".
Raven is seen unhooded for the 60th time in the series.
References
During Raven's story, we see her uncle reading a newspaper with the headline, "Octopus Receives Doctorate". This is a reference to Dr. Octopus, who is a villain from the Marvel universe.
Each Titan's story is a parody of a well-known superhero's origin story. Starfire's story references Batman; Beast Boy's story references Green Lantern; Raven's story references Spider-Man; and Cyborg's story references Superman.

This is the second time that a Marvel superhero has been directly referenced in the show.
Another Marvel reference: Beast Boy says that he always thought Batman got hit with gamma radiation and that's how he gets all of his muscles. This is a reference to The Incredible Hulk, another Marvel superhero.

Beast Boy mentions the Norwegian fairy tale of The Three Billy Goats Gruff.
Starfire mentions the fairytale Thumbelina when she refers to "the tale of the tiny fairy princess", although in older versions of the Fairy Tail Thumbelina does not ride a cat.
Errors
When the boy falls out the window, his window had smoke. After he landed in the nest, his window is clean.
Running Gags
The Titans being shocked while the word tragic appears in huge letters.
Robin being irritated by each of the other Titans' stories.
Gallery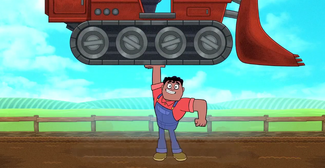 The image gallery for Orangins may be viewed here.
Ad blocker interference detected!
Wikia is a free-to-use site that makes money from advertising. We have a modified experience for viewers using ad blockers

Wikia is not accessible if you've made further modifications. Remove the custom ad blocker rule(s) and the page will load as expected.