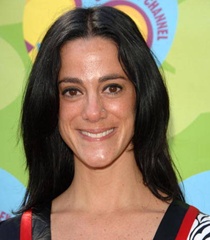 Nika Futterman is a minor voice actor in Teen Titans Go! who voices Sonia Conchita Hernández in "La Larva de Amor". She also voiced Asajj Ventress in Star Wars the Clone Wars, Adam Lyon in My Gym Partner's a Monkey, Chum Chum in Fanboy and Chum Chum, Gamora (Guardians of the Galaxy) in The Ultimate Spider-Man ,also voices Sticks the Jungle Badger in the newest Sonic series, Sonic Boom and Luna Loud from Nickelodeon's The Loud House.
Ad blocker interference detected!
Wikia is a free-to-use site that makes money from advertising. We have a modified experience for viewers using ad blockers

Wikia is not accessible if you've made further modifications. Remove the custom ad blocker rule(s) and the page will load as expected.