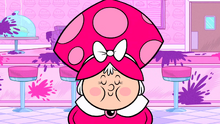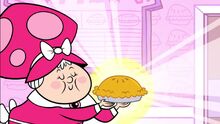 Mother Mae-Eye is a villain in Teen Titans Go! who made her debut in Pie Bros. Like in the original cartoon, she is voiced by Billie Hayes.
Bio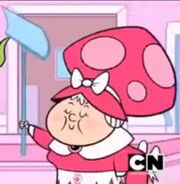 Mother Mae-Eye first appeared in the episode Pie Bros. In the episode, Mother Mae-Eye runs her own pie shop. One day, when the Titans were eating, Raven jokingly tells the team that she has heard that the secret ingredient in Mother Mae-Eye's pies is people. Later she is hypnotizing a elderly man, then taking him to the kitchen. Soon afterwards, she is again seen taking a worker of hers. We later see her hypnotizing Robin, Starfire and Raven at Cyborg's birthday party, taking them to her kitchen to dump them in her oven. At the end of the episode we see her tied up by the Titans, who are missing some pieces of clothes because she had attempted to cook the three Titans into pies, however the pies were made entirely out of clothes.
Powers and Abilities
Episode Appearances
Season 1
Season 3
Comics
Trivia
Gallery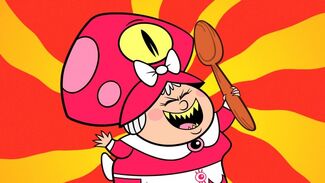 The image gallery for Mother Mae-Eye may be viewed here.