Mission to Misbehave (Season 1, Part 1) is the first DVD release of Teen Titans Go! containing 26 eleven-minute episodes from the first season. It was released on March 4, 2014 in the United States.
Synopsis
Featuring the return of Robin, Starfire, Raven, Beast Boy and Cyborg in all-new, comedic adventures, Teen Titans Go! Character-driven comedy is the order of the day as this new take on the superhero series focuses on the funny business that happens between saving the world and living together as teenagers without adult supervision. The series stars the principal voice cast from the original Teen Titans, and is produced by Warner Bros. Animation. With epic staring contests to decide who does the laundry, a series of quests and battles to construct the perfect sandwich or fighting crime in Jump City, one thing is for sure: These Titans will always be ready for an adventure … inside the house and out.
Disc 1
Disc 2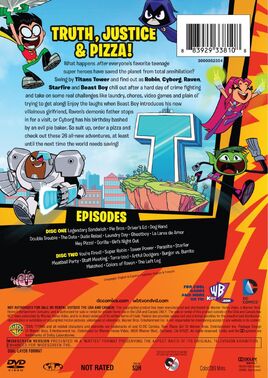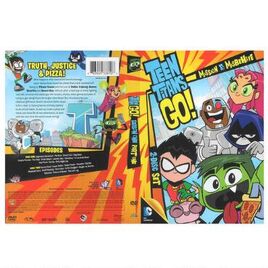 Main Cast
| Voice Actor | Character(s) |
| --- | --- |
| Scott Menville | Robin (main), Speedy, Dr. Light, Detective Chimp, Carlos |
| Khary Payton | Cyborg (main), Zan, Couch Spirit, Universe Tree |
| Hynden Walch | Starfire (main) |
| Tara Strong | Raven (main), Jayna, Old Lady, Raven Emoticlones, Kitten  |
| Greg Cipes | Beast Boy (main) |
Supporting Cast
Ad blocker interference detected!
Wikia is a free-to-use site that makes money from advertising. We have a modified experience for viewers using ad blockers

Wikia is not accessible if you've made further modifications. Remove the custom ad blocker rule(s) and the page will load as expected.