Menos is the twin brother of Más, forming Más y Menos of the Titans East. He was seen at a past party the Titans went to briefly in a flashback section. He is voiced by Freddy Rodriguez.
Bio
Menos was first briefly seen in a flashback of a past party the Titans went to. In the episode "Mas y Menos," Robin dislikes Menos for having a "negative attitude," despite the fact that he had no attitude what so ever. Robin also accused Menos for ruining Mas's bright future. Robin lied to Menos, saying that Mas was in the hospital. Menos rushed away and was out, and Robin taught Mas. After Mas was taught, Robin dressed up as Menos. Moments later, Menos enters the Titans Tower with a get well balloon for Mas. He was happy to be with his brother again and gives him a high-five. However, due to being apart for a long time, they created a large amount of energy which could destroy the Earth. The Titans try to stop them.
Episode Appearances
Season 1
Season 2
Season 3
Comics
Trivia
Like his brother, Menos had a slight crush on Starfire.
It is revealed in Más y Menos that Robin despises Menos.
"Menos" means less in Spanish, it also means minus. (It is also used for subtraction.)
Along with his brother, he have an exceptional love of tamales.
Along with Mas, they both share a similarity to the Pokemon Plusle and Minun as they're both 2 pairs of friends who are usually seen together and their names are references to the words plus and minus.
It's possible that Robin put him down because "Menos" means "less" in spanish. So Robin must've thought he had a "negitive attitude" or wasn't so bright.
Mas and Menos are both bilingual, meaning they can speak 2 different languages.
Gallery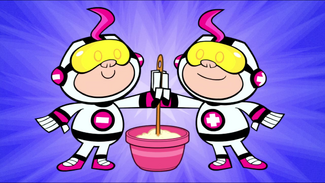 The image gallery for Menos may be viewed here.
Ad blocker interference detected!
Wikia is a free-to-use site that makes money from advertising. We have a modified experience for viewers using ad blockers

Wikia is not accessible if you've made further modifications. Remove the custom ad blocker rule(s) and the page will load as expected.