Meatball Party



Season

1

Episode

10a

Original airdate:

Tuesday, July 30, 2013

Premiere time:

7:30 PM

Produced by:

Aaron Horvath
Michael Jelenic

Written by:

Paul Giacoppo

Directed by:

Peter Rida Michail

Previous episode:

Next episode:

Production code:

110a
Meatball Party is Teen Titans Go! Season 1, Episode 10a, and the 19th overall episode of the series.
Summary
While trying to entice Raven into joining a meatball party, Cyborg fires a half-meat, half-robot mystery meatball into her mouth, cracking her tooth and releasing the demon octopus that lives in her mouth.
Plot
The Titans are sitting down and relaxing until  Cyborg interrupts and shouts it's one of his Meatball Parties and shoots Meatballs at them all. Starfire, Robin, Beast Boy and Silkie were all pumped and enjoying it while leaving an annoyed Raven covered in meat. Next, Cyborg announced that the Mystery Meatball was going to be eaten by Raven and the other Titans cheered her on to eat it, but Raven just leaves. After some prodding from the Titans, Raven gives into peer pressure and eats the meatball. Being a cyborg, Cyborg made the meatball half metal as well and it cracked Raven's tooth.
The next day, the Titans are hanging out again and Raven comes in, not saying anything. Beast Boy loves this and uses her silence to annoy her. Raven is only able to hold it back for so long and snaps, and yells at Beast Boy. Once she does this though, a bunch of tentacles come out of her mouth and attack the Titans until Raven is able to close her mouth again. They now all realize that she can't open her mouth and says she must see a dentist, but Raven refuses to because she hates the dentist.
Throughout the next few days or so, Raven has to open her mouth at times and the Demon Octopus keeps attacking the Titans, specifically Beast Boy. Eventually, the Demon Octopus actually devours Beast Boy and that's the final straw for Robin, Raven WILL go to the dentist now.
The Titans wait outside patiently as the dentists attempt to get Raven to open her mouth. Once she does though, the Demon Octopus brutally attacks the dentists. When Raven goes outside to tell the Titans that it didn't work, the Demon Octopus quickly devours Robin. With that plan having failed, the Titans return to the Tower. While Starfire tries to come up with a plan, Cyborg inappropiately has another meatball party. This annoys Raven and she starts to yell at Cyborg and the Demon Octopus devours Starfire. Drawing pictures to communicate now, Raven tells Cyborg that's his fault because he forces her to do things she doesn't want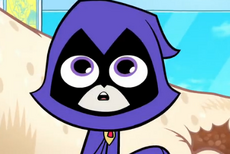 to.
Having learned this, Cyborg tries to make it right by having Raven devour him willingly. Inside Raven's mouth, the Titans are fighting the Demon Octopus in the crack of Raven's tooth. It's not going well as the Titans are losing. Cyborg knows the only way to stop it is to seel the crack in Raven's tooth, which he does with a bunch of meatballs. Sealing the crack causes Raven to throw up the Titans. Cyborg now apologizes to Raven and says he won't force her to do anything again. However, the other Titans want another meatball party and the episode ends with Cyborg shooting an enormous meatball at Raven, much to her dismay.
Characters
Songs
Trivia 
Errors
Gallery
The gallery for this episode of Teen Titans Go! can be found here