Mad Mod is an enemy of the Teen Titans who made his series debut in the comic Party Party, and his episode debut in the season 2 episode "Salty Codgers".
Bio
Mad Mod is an elderly British man from England with a selfish desire for power. In order to obtain that power, he must first make himself younger. To regain his youth, he uses his specially designed cane to steal the youth of people all over Jump City. From innocent teenagers to small children, Mod has no limits.
One day, after being taunted of by a group of teenagers, an enraged Mad Mod went on a youth-stealing spree across Jump City. His insane attack attracted the attention of his longtime nemeses, the Teen Titans. Mad Mod attempts to escape the battle through a portal, but the heroes follow him. After a lengthy chase in a strange British parallel dimension, Mad Mod, the Titans, a giant tea cup and a giant stone foot are transported back into the real world. The tea cup land on the Titans, smashing everyone except Raven. Despite the Titans' desperate pleas and begs, Raven gives Mod the upper hand by passing his cane to him. Mod steals the youth from the trapped Titans, then escapes the scene of the crime quite pleased and witful.
Appearance
Mad Mod is a tall English man who has flaming red hair, glasses and white crooked teeth holding aging cane complemented by his big shining crimson ruby on top. He wears and England flag shirt with white pants.
As his older self, he is much more aged and crippled with wrinkles and snowy white hair.
Power and Abilities
Appearances
Season 2
Season 3
Season 4
Comics
Trivia
Gallery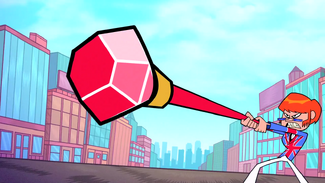 The image gallery for Mad Mod may be viewed here.
Ad blocker interference detected!
Wikia is a free-to-use site that makes money from advertising. We have a modified experience for viewers using ad blockers

Wikia is not accessible if you've made further modifications. Remove the custom ad blocker rule(s) and the page will load as expected.