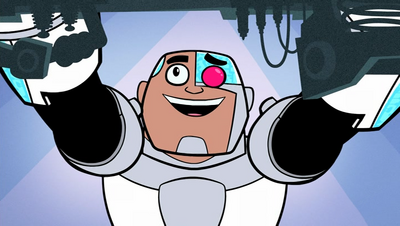 The following is a list of
Cyborg
's inventions.
Inventions
Brainiac Robotic Body

A back-up robotic body inside his closet.

Music Player

Stereo sound system that comes out of his chest.

Tower Control Panel

The main control panel of the Titan's tower, which can do nearly anything, from surfing the web to hacking traffic lights.

T-Car

The Titans' main mode of transporation.

Security Dome

The giant dome that surrounds Titans Tower (as seen in Hey Pizza!) to keep out intruders.
"The button" to completely destroy everything in sight, also seen on "Hey Pizza!"

Tower Security System

The security system seen in "Terra-ized" that puts the entire tower on lock-down. 

DNA Merging Machine

A machine that merges the DNA of two people/things, as seen in "Super Robin".

Love Matcher 5000

A specially designed invention that matches any superhero with their perfect ideal match. It never really worked at 100% efficency, as is shown in "Matched".

Burger Robot
Evil Coffee Maker
Evil Vaccuum
Evil Lamp
Evil Toaster
Robotic Suit Closet
Titan Robot

The giant robot used in "The Left Leg" and "Love Monsters", only in case of emergency against serious threats that terrorizes the city.

Mystery Meatball Machine

Cyborg being capable of making meatballs inside of his body, as shown in "Meatball Party".

Robotic "Mystery" Meatball
Time Machine

Created by him and Beast Boy together in order to return back to their original time, in the episode "Staring at the Future".

Neon Christmas Wall
Holographic Projector
Titan's Communicator (partial credit goes to Robin)
T-Car Uprgrade
Sledge
Submarine
Upgrades
Gallery
Ad blocker interference detected!
Wikia is a free-to-use site that makes money from advertising. We have a modified experience for viewers using ad blockers

Wikia is not accessible if you've made further modifications. Remove the custom ad blocker rule(s) and the page will load as expected.