"Leg Day" is the second episode of the third season of Teen Titans Go!, and the one-hundred-sixth overall episode of the series.
Summary
After being defeated due to poor leg strength, Raven and the Titans work out their lower bodies and become the League of Legs.
Plot
The episode starts with the Titans working out, causing them to get big arm muscles. Raven doesn't want to participate because she believes legs deserve the same strength as arms. After making out with their muscles, the crime alert rings, and they go to fight giant purple bots which were destroying the town. To prevent being crushed, they hold up the bot's foot with their arms, while Raven tells them to use their legs. They lose the battle, and Raven helps them as Lady Legasus. They then muscle up their legs. Raven renames the Titans as "The League of Legs." They each take alternate names: Cyborg as Thunder Thighs, Starfire as The Incredible Quad, Beast Boy as the Calf, and Robin as Captain Cankle. Using their legs as hands, they decide to use a frontal assault on the enemy. They are almost crushed, however, they use their legs to save the world. Raven decides to end the League of Legs so they can become the Teen Titans again. Beast Boy begs to see Raven's legs one more time, and all of them do.
Characters
Song
Trivia
Continuity
References
Errors
Running Gags
Transcript
The transcript for "Leg Day" can be found here.
Gallery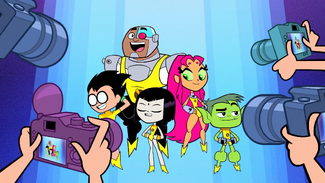 The image gallery for Leg Day may be viewed here.
Ad blocker interference detected!
Wikia is a free-to-use site that makes money from advertising. We have a modified experience for viewers using ad blockers

Wikia is not accessible if you've made further modifications. Remove the custom ad blocker rule(s) and the page will load as expected.