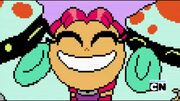 The Land Squid is character who appears in the episode "Video Game References" during Starfire's game sequence.
Biography
The Land squid went around the game being angry becuase he was itchy, but became a friend and a member of Starfire's group after she sang the Scratch Song.
Trivia
He is a reference to the "Octorock" from The Legend of Zelda series.
Ad blocker interference detected!
Wikia is a free-to-use site that makes money from advertising. We have a modified experience for viewers using ad blockers

Wikia is not accessible if you've made further modifications. Remove the custom ad blocker rule(s) and the page will load as expected.