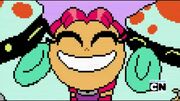 The Land Squid is character who appears in the episode "Video Game References" during Starfire's game sequence.
Biography
The Land squid went around the game being angry becuase he was itchy, but became a friend and a member of Starfire's group after she sang the Scratch Song.
Trivia
He is a reference to the character, Octorock, from The Legend of Zelda series.