"Who's that Orange Girl?"

The name of this page is unofficial. Though the content on this page is accurate, the "official" name of this article has either not been given or has yet to be confirmed. Please keep this under consideration as you proceed.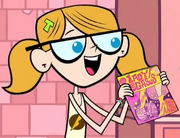 The Lady Legasus Fangirl first appeared in Laundry Day and is seen in episode Legs, screaming for an autograph from Raven.
Biography
She is seen in one episode, screaming in excitement and holding out her Lady Legasus comic book to be autographed by Lady Legasus. When Raven smiles and obliges, she runs off giggling happily.
Physical Appearance
She wears a white shirt with a logo on the front. She has large glasses, colorful bracelets, and a berret and earrings in the shapes of T's, presumably meaning she is also a fan of the Teen Titans.
Episode Appearances
Gallery
Ad blocker interference detected!
Wikia is a free-to-use site that makes money from advertising. We have a modified experience for viewers using ad blockers

Wikia is not accessible if you've made further modifications. Remove the custom ad blocker rule(s) and the page will load as expected.