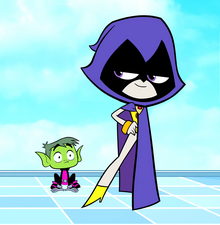 Lady Legasus is an alternate superheroine identity created and temporarily used by Raven.
Bio
After Raven discovers what her legs are capable of, she decides to leave the Titans and become "Lady Legasus". She takes down Cinderblock, Dr. Light, Brother Blood, Gizmo, and other villains with ease, and becomes one of the best and well known superheroes in Jump City. Later, while she was signing autographs and getting pictures taken, she sees Cyborg under the influence of her cloak, torturing the Titans on television, and goes to save them. She uses a powerful kick to get the cloak off of Cyborg.
Knowing that no one else can handle the dark powers of her cloak, she decides to give up her fame and glory, and reverts back to Raven to prevent anyone from wearing the cloak again, because no one can handle the power of it's dark influence. Beast Boy gets upset when Raven puts her cloak back on, covering her legs. But Raven walks away from Beast Boy. Before the end of the episode, she looks at Beast Boy and smiles, and briefly pulls her leg out one more time with her Lady Legasus uniform still on, and shows it off just for a happy Beast Boy, who then morphs into a dog and pants and howls in delight/joy.
Physical Appearance
As Lady Legasus, Raven replaces her casual outfits with a saffron-colored sleeveless leotard with matching wristbands/cuffs and yellow booties. Her leotard has her logo of a golden leg in a darker-colored circle on the breast area.
Episode Appearances
Season 1
Season 3
Game Apperances
Trivia
Gallery