Jump City's Town Area, which first appeared in the episode "Halloween", is the part of Jump City which there are no buildings, but only a neighborhood of houses. The Teen Titans who were turned into small children, aside from Raven, Trick-O-Treated here.
Description
Jump City's Town Area is rather large, with a wide road, and wide sidewalks. All of the houses are the same, which suggests it is a starter neighborhood. It is also the area where the Halloween Spirit was defeated and sealed back into a pumpkin.
Trivia
Interestingly, no kids were out during Halloween.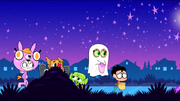 Ad blocker interference detected!
Wikia is a free-to-use site that makes money from advertising. We have a modified experience for viewers using ad blockers

Wikia is not accessible if you've made further modifications. Remove the custom ad blocker rule(s) and the page will load as expected.