"I See You"
is the fifth episode of the second season of
Teen Titans Go!
, and the fifty-seventh overall episode of the series.
Summary
Robin brings Starfire on a fake stakeout in an attempt to steal a kiss from her, while Cyborg and Beast Boy hold their own stakeout to discover Raven's darkest secret.
Plot
The episode starts off with Beast Boy, Cyborg and Starfire playing video games while Raven is reading, but suddenly Robin arrives saying that crime is afoot and the only way to stop them is by a stakeout. Cyborg makes a small a joke out of Robin's declaration by saying, "I thought crime was a leg, bro!" Then Beast Boy adds on to the joke by saying: "No Dude! if crime was anything, it would be a hand!" When Starfire is wondering the meaning of stakeout, Cyborg claims its the best way to fight crime by finding their main secrets and then he starts off with him and Beast Boy singing the Stakeout song. Which Robin tells them that they are bad at stakeouts as an example to a restaurant where Brother Blood is eating a sandwich while Cyborg and Beast Boy were mocking him that they see him. Robin denies their stakeouts and wants to be alone with Starfire as Robin's stakeout crime will be only an attempt for a kiss from Starfire as they left the Tower. Believing that Beast Boy and Cyborg are bad at stakeouts, Raven agrees with that statement and everything else than that as she leaves to her room. Then Cyborg and Beast Boy decides to do a stakeout on Raven.
Meanwhile, in the T-Car, Robin lists the three rules of a stakeout; Rule 1: Locate a den of criminal activity, Starfire wants to know what kind of crimes will happen and Robin answers crimes of passion. He lists Rule 2 as Indirect observation as he wants her to look in his eyes. He lists Rule 3: as concealment as he was too shy to repeat "I love you". He then tells Starfire to look into his eyes then he asks if she sees a house with a fence with 2.5 kids, a yard and dinner parties on the weekends with their titans friends which were Raven and Beast Boy. But she denied what she saw, instead she seeks out a shiny diamond hidden in the bushes. Without any knowledge if its a clue or not Robin throws it away.
Back at the Tower, Raven opens her diary to write but then her hand started to shake and turns red as she closed her book immediately. after being shocked she said to herself: "Oh no, its happening again!" and she left her room. Cyborg and Beast Boy were hiding under her bed and got out to reach for the diary as Cyborg claims it may contain a secret crush for Beast Boy even though it was embarrassing for both of them. After opening her book, the words popped in Beast Boy's mouth leading to Cyborg saying he had it upside down but when he opened it by himself a giant laser light of word bees were spreading around the room.
While Starfire never knew the steakhouse was meant for stakeouts, Robin claims its also for make outs. Still confusing, Starfire admits that she is learning so much from Robin but also wondering if she wasn't breaking the rule number 3. Robin's theory is called hiding in plain sight to work together. Starfire confirms this, but says that she must "put on her face". Robin becomes excited as he was expecting a kiss, instead Starfire comes out wearing a mask of an old person called Jeff and ready to roll again with Robin as they found another diamond hidden in a bush. Back at the Tower, Beast Boy and Cyborg are sitting gloomily for they haven't found anything related to Raven's secret crush, as they started to practice some few stakeouts before the final attempt. At a dumpster, Starfire finds another diamond as she hears something behind her. She asks Robin did if he see that the crime is afoot. Then Starfire opens the door and it's Dr. Light. He welcomes Robin and Jeff into his lair to show them the crystal chandeliers he was making. His hobby turned to be a real secret plan to destroy the city using the chandeliers death rays after Jeff revealed it by mistake but eventually she defeats Dr. Light, making a "The Pain of Defeat" to fall and crash on him.
Meanwhile at the Tower, Raven cannot let the world see her true demonic form, which is revealed after taking her hood off. She is unaware that Cyborg and Beast Boy were hiding under Raven's bed ready to stakeout her secret. Demonic Raven casts a spell in order to cleanse herself of darkness as she successfully turned back to normal in a white cloak this time, unaware that Beast Boy and Cyborg get sucked up in the portal hole too along with millions of souls surrounded by her spell. Both Titans landed in the middle of nowhere as Cyborg snaps a photo of Raven's secret but it was a picture of Beast Boy screaming, still they think she has a crush on Beast Boy as they celebrate their victory as stakeout kings. On the other hand, Starfire admits her first stakeout was great together with Robin as he is also proud of her for tracking Dr. Light. Starfire then says that he forgot one thing, You don't mess with the Jeff! With saying this she puts on her Jeff mask.
Characters
Songs
Trivia
This is the first time we see Raven's true demonic form.

Her demonic form is reflective of that from the old comics of the "New Teen Titans".
This is Dr. Light's first appearance in Season 2.

This is his second major role. The first was "Caged Tiger."
This is Brother Blood's first appearance in Season 2. Although in this episode, it's only a cameo.
This is the first episode where Robin admits his feeling for Starfire, even if it's short and rushed.
This is the first episode in the second season to have a song.
This is the second time Raven has accidentally banished Beast Boy to another dimension. The first was in "Be Mine."
This is the 9th time Raven is seen unhooded, and the second time wearing a white cloak. The first time was "Breakfast Cheese."

This is the first time Raven is seen unhooded while wearing the white cloak.

When Robin explains why he didn't just ask Starfire out, music from "Dreams", "Two Bumblebees and a Wasp" and "Head Fruit" plays.
This is the first episode of the second season to feature Brother Blood.
Dr. Light is literally crushed by the pain of defeat.
Dr. Light's chandeliers are named:

The Pain of Defeat
Foiled Again
I'll Get You Next Time
Titans
Normally, these would be phrases that Dr. Light would say after a loss or encounter with the Titans.
Continuity
References
Beast Boy's adult appearance in Robin's vision is very much like his appearance in the original series episode "How Long is Forever?", including his pot belly and bald head.
In Robin's vision, the girl in the middle has black hair, green pupils, and is wearing a purple dress; all of which hint to the character Nightstar, who also happens to be Starfire and Nightwing's daughter in the "Kingdom Come" continuity.
Shaggy Rogers and Scooby-Doo appear in the Mystery Machine during Beast Boy and Cyborg's song.
Errors
Raven has headphones at the beginning of the episode, but they disappear for the rest of the opening scene.
Running Gags
The Jeff (aka Starfire) solving a mystery.
Robin trying to trick Starfire into kissing him.
Gallery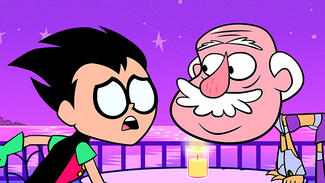 The image gallery for I See You may be viewed here.
Ad blocker interference detected!
Wikia is a free-to-use site that makes money from advertising. We have a modified experience for viewers using ad blockers

Wikia is not accessible if you've made further modifications. Remove the custom ad blocker rule(s) and the page will load as expected.