Hynden Walch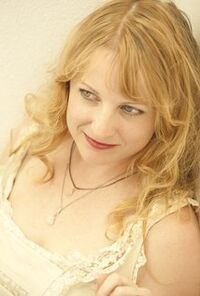 Role   -   Voice Actress
Character   -   Starfire
Date of birth   -   February 1, 1971
Hynden Walch is an American voice actor who voices Starfire and Blackfire in Teen Titans Go! and it's previous series Teen Titans, DC Comics' New Teen Titans Shorts, and voices Starfire in DC Comics' web series, DC Super Hero Girls.
She has also voiced many others characters, including Princess Bubblegum from Adventure Time, Harley Quinn in Batman:Assault on Arkham. She also voiced Madame Rouge and other voices on Teen Titans. She also played a live acting role as Debbie in Groundhog Day.
Teen Titans Go! 
List of characters voiced by Hynden Walch in Teen Titans Go!:
Trivia
She is known to be camara shy most of the time
Hynden Walch's Social Media Accounts
Photos of Hynden Walch
Ad blocker interference detected!
Wikia is a free-to-use site that makes money from advertising. We have a modified experience for viewers using ad blockers

Wikia is not accessible if you've made further modifications. Remove the custom ad blocker rule(s) and the page will load as expected.