"Hot Salad Water" is twenty-sixth episode of the fourth season of Teen Titans Go!, and the one-hundred-eighty-third overall episode of the series.
Summary
When drinking tea turns the other Titans British, it's up to Robin to save America from another British invasion brought by the Queen of England herself and save his teammates.
Plot
The story opens up with Starfire, Raven and Beast Boy having their own bowls of cereal in the dining room. While the other Titans are eating cereal, except for Robin, Cyborg offers them drinks such as water, orange juice and milk, but the three others aren't satisfied until he finds a tea bag and decides to make tea with his own mechanical body. But before they can drink their tea, Robin suddenly comes running and attacks the teacup of Cyborg's with a birdarang, causing the teacup to explode right in Cyborg's face. Robin then scolds his friends for drinking tea, which Beast Boy calls "hot salad water" before Raven corrects him. After Starfire and Raven throw away their teacups, Robin yells at Cyborg and Cyborg tells him to chillax, but Robin warns them that tea is from Great Britain and in order to tell them how drinking tea is dangerous, he gives an inaccurate history on tea linked to British Invasion and involved the Bald Eagle, the Statue of Liberty and George Washington to save the day (which Beast Boy questions it being part of American history at first yet Robin forces him to keep quiet). He doesn't forget to remind them that England has never forgotten about the humiliating defeat and throwing away the history book, he claims that the British always has plans to take revenge on America. Raven thinks Robin is overreacting but Robin believes his beliefs are true and soon dumps Beast Boy's teacup into the ocean, saying it's ¨where it belongs¨, and putting caps with the word USA as well as spraying the others with soda.
After Robin left with the help of his grapple gun, Starfire is upset that they are not going to enjoy "hot salad water" anymore. However, a wooden crate containing tea leaves is then imported into the tower. Starfire thinks that it's a sign that they're meant to drink tea, while Raven is suspicious in the beginning though Beast Boy manages to convince her by making her along with Starfire and Cyborg agree with him that Robin is not always right and only drags them into troubles. They immediately disobey Robin's order by drinking tea behind his back, and as they start to stick out their little finger, Starfire can't help but to chew the tea bag while she and the three other Titans start drinking tea in a British manner.
The very next morning, Robin (who is wearing an OBVIOUS USA cap with two mini-flags on both sides) enters the living room enthusiastically, greeting Raven, Beast Boy and Starfire who are sitting on the couch with "Good morning, Titans". Raven then responses him with "Good morning, Robin" and Robin displays his doubts, asking her whether she has forgotten the ANCIENT "hello". Starfire excitedly tells him to join the three of them and watch the "telly", and he asks her back in a disrespectful manner, "Who calls the TV a 'telly'?". Nevertheless, he soon sniffs an ominous breakfast smell, and he immediately questions Cyborg who walks in with the plate of food. Cyborg replies that there are bacon strips, eggs, toast, and hash browns, which makes Robin feel relieved at first and claims it's a way to be American - until Cyborg continues with black pudding, baked beans, mushrooms and tomatoes, and Robin furiously calls the breakfast "foul English" after recovering from shock and figures out that the four have drunk the tea, which Raven admits. Robin recalls how he has thrown the previous tea into the ocean like a "good American would do" and Cyborg tells him that they've got some more, causing Robin to kneel and believing his worst nightmare is coming true--his friends are becoming Anglo people, which Beast Boy is dumb enough to mishear as "hang low style" (even showing his own panties...). Robin emphasizes his point again, saying Anglo Files are ones who love Great Britain and he tells Cyborg and the others that's nothing GREAT about Great Britain and the tea has worked their minds. In order to make them remember being Americans, he sang a song that praises how awesome USA is.
Characters
Song
Trivia
This episode premiered one year after "TTG v PPG".
This is the the second Fourth of July episode of the series after "Money Grandma".
This is the third episode to include the word "water" in the title. The first two episodes were "Hose Water" and "Fish Water".
This episode is very controversial and offensive, upsetting both British and American audiences because Robin shows prejudice against British people. Audiences were also angry about the fact the queen was a villain, which could be considered defamation. As a result, this episode was later pulled from UK broadcasting.
This episode reunites Tara Strong and Jane Carr who are in the Nickelodeon show, The Fairly Odd Parents as Timmy Turner and Mama Cosma respectively.
Continuity
Robin's money puppet from "Two Bumble Bees and a Wasp" appears again for the second time in the series.
The call Robin used to call the bald eagle is similar to the one used he used to summon Team Robin in "The Best Robin".
Raven is seen unhooded for the 62nd time in the series.
When Robin is walking into the living room after the first time the Titans drink tea, he seems to be humming Mornin', which is a song he briefly sung in "Terra-ized".
References
The episode title references the beverage tea, which Beast Boy calls "hot salad water".
Robin saying he dumped tea into the water is a reference to the Boston Tea Party of 1773.
When Cyborg transforms into different beverage makers, he makes the Transformers' morph sound.
When Cyborg is discussing possible beverages for the other Titans, he milks a cow into a bottle with a label resembling that of Lon Lon milk from The Legend of Zelda: Ocarina of Time.
During Robin's song about America, he made several references;

When he mentions "Freedom" we see he is standing in front of a state penitentiary. This may be referencing how incarceration rates are the highest in the United States.
He mentions the family sitcom Full House. A photograph appears with the Titans dressed as the cast, with Robin as Danny Tanner, Beast Boy as Joey Gladstone, Cyborg as Jesse Katsopolis, Starfire as D.J. Tanner, Raven as Stephanie Tanner and Silkie as Michelle Tanner. Ironically, Robin's voice actor, Scott Menville, starred in the hit sitcom as a character known as Duane and even returned as the character in the sequel series, Fuller House.
Jersey Shore, Ernest Goes to Camp, and Samuel L. Jackson are also referenced in his song.

The bus that the Big Ben robot launches is a reference to the Knight Bus from the Harry Potter book series, although that bus is a triple-Decker and not a double-Decker. To confirm this point further, the bus has the words "Knight Bus" printed on it, along with a logo that appears to be a bespectacled Batman with a lightning symbol on his forehead. There is also a shrunken head on the rear view mirror and the license plate reads HOGWARTZ.
When the Queen smashes through a billboard that reads "AMERICA", she breaks off the "A", making it read as "MERICA". This is considered by some to be an extra-patriotic way to pronounce "America".
The final screen reads, "America, Heck Yeah!" This could be a reference to the "America, F*** Yeah!" song from the movie, Team America: World Police.
Errors
Robin says that tea is the favorite drink of Great Britain. However, in recent years tea consumption has been in decline in England.
Robin's recounting of the American Revolution is full of historical inaccuracies. Most notably, the Statue of Liberty didn't reach the United States until 1885, long after the revolution had taken place. Also, the colonists weren't forced to drink tea and they actually liked it. But when the British started taxing tea unfairly, the colonists protested in different ways, like the Boston Tea Party and by drinking other beverages instead, like coffee. Robin also said that soda is a national drink of the US but soda wasn't invented until 1807 and United States' national drink is actually bourbon. However, it is to avoid copyright laws.
Robin hates tea in this episode but he has been seen drinking it in previous episodes such as "Mouth Hole". The other Titans have also been seen drinking it in "Breakfast Cheese" and didn't cause any effects at all. This episode may however have occured before ¨Mouth Hole¨ and ¨Breakfast Cheese¨, or Robin lost his love of tea altogether.
The Titans were portrayed as Anglophobic people, but in "The Fourth Wall", the Titans dressed up as posh British people to prevent their show from getting rebooted. This episode may have occured before ¨The Fourth Wall¨ though, or they don´t really know how British people dress altogether.
Running Gags
Robin's strong dislike for tea.
Robin getting angry with the other Titans for drinking tea.
Soda being shaken and sprayed on people.
Pinkies being extended when tea is being enjoyed.
Gallery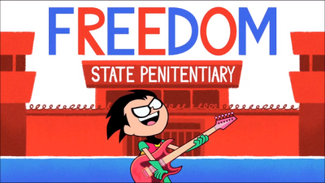 The image gallery for Hot Salad Water may be viewed here.