Hey Pizza!
Season:
1
Episode:
6a
Original Airdate:
Tuesday, June 4, 2013
Premiere Time:
7:30 PM
Produced By:
Aaron Horvath
Michael Jelenic
Written By:
Amy Wolfram
Directed By:
Luke Cormican
Production Code:
106a
Chronology
Previous Episode:
La Larva de Amor
Next Episode:
Gorilla
Video

01:49

Teen Titans Go! - 'Hey Pizza!' Clip-0
"Hey Pizza!" is Teen Titans Go! Season 1, Episode 6a, and the 11th overall episode of the series.
Summary
Cyborg and Beast Boy want to get a free pizza in over 30 minutes, but the delivery boy is seemingly unstoppable. It is becoming a bit of a challenge as an all-out war of wits between them erupts. Meanwhile, Robin struggles to decide whether to build a senior center or a pool (most likely to see Starfire in a bikini).
Plot
Outside the Titans Tower, it is severely hot outside, even inside. Inside the Titans Tower, Beast Boy and Silkie are sweating and tired like crazy, so they get something cold to put on themselves or lick it, but they melt. Later outside, they are taking a walk outside, but since the temperature is severe, they walk in slow motion. Beast Boy opens up his umbrella to cool him and Silkie off, but it burns into ashes, then he uses the hand fan but it suffers the umbrella's same fate, just for Silkie to dehydrate quickly in a few seconds. Later, Beast Boy dips Silkie into a circular portable pool and he is re-hydrated but later, the pool becomes boiling hot before it meets the same fate as the umbrella and the hand fan.
Raven is watching Cyborg fix the air conditioner. She does it herself, the moment Robin walks in. Robin comments on how Cyborg did his job well, and tells the Titans that they are building a Senior Center. However, his opinion changes when Starfire remarks that she purchased a bikini "on the line" and wear it at a pool, prompting Robin to build the pool. Beast Boy flirtatiously asks Raven (as he wiggles his eyebrows at her) if she is going to buy a bathing suit too. Raven lets him know that her cloak is her bathing suit. Beast Boy scans Raven and her cloak, and calls it "hot".
Cyborg and Beast Boy are watching television when they see an ad for Zippy's Pizza. They decide to delay the pizza so that they can get it for free. Always cheating. Yet no matter how much they try the pizza boy, despite robot-sharks, laser barriers, missile barrages and the fact the tower is 45 minutes away from the Pizzeria he always gets their in time. They resort to an orbital laser cannon and destroy the place, realizing what they did seconds later only to be relieved when the delivery guy is fine.
Later, at the opening of the Senior Center, when the Pizza boy arrived, an old man told him that it has been 31 minutes, which meant the Pizza boy was late, and therefore he got free pizza. This causes Cyborg and Beast Boy to have a extreme nervous breakdown after their many attempts to get free Pizza.
Characters
Trivia
Cyborg can hack into traffic lights and other Jump City traffic management.
Everyone forgets that they have a swimming pool at the bottom of the island of the Titan Tower, which was shown in "La Larva de Amor" although it is very small and isn't a community pool. It was also shown at the beginning of the episode.
It is revealed that Silkie enjoys feeding on pizza.
This is the first episode that had two plots mixed into it.

Beast Boy and Cyborg trying to get free pizza.
Robin deciding rather he should build a Senior center (because it's the right thing to do) or a community pool (just to see Starfire in a bikini).

This episode aired before La Larva de Amor in the UK.
Raven was only in the beginning of the episode, but absent for the rest of it. This marks the first time where a main character was absent for that long.
The title of this episode is based on the catchphrase the delivery man says when he delivered the pizza.
This is the first time the thermometer has displayed a temperature other than 72-73 °F, being 103 °F in this episode.
References
When Beast Boy and Cyborg pay for the pizzas, the money has Lex Luthor on it.

This would mean that Luthor is deceased, as only dead figures are eligible for being on bills. However, it should be remembered that Luthor has immense political power and was probably able to strong-arm the government into putting his face on money.

A store called "Lil' Alfred's Toy Cave" is blown up by Cyborg's drone in Jump City. This is an obvious nod to Bruce Wayne/Batman's famed butler Alfred Pennyworth. The shop's sign shows Alfred sitting in a mini 1960's era Batmobile.
The missiles Beast Boy and Cyborg uses to attack the Pizza Deliverer resembles "Bullet Bills" from the Super Mario series.
Continuity
Errors
Despite being male, Starfire bought Silkie a bikini.
In the scene with the pizza timer, it needed one more slice of pizza to be complete. The next scene it needed two more pizzas (Which means that Beast Boy and Cyborg wouldn't need to pay for the pizza).
Gallery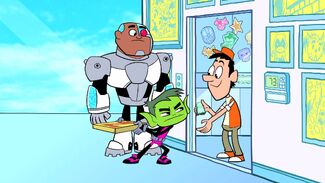 The image gallery for Hey Pizza! may be viewed here.