"Hand Zombie" is the nineteenth episode of the fourth season of Teen Titans Go!, and the one-hundred-seventy-sixth overall episode of the series.
Summary
After Starfire kisses his hand, Robin vows to never wash it again.
Plot
The episode starts out with Robin giving the other Titans a lecture about personal hygiene. Robin says there are four main areas of bacteria; hair, face, teeth, and hands. However, Starfire says how she washes her hands while she is trapped in the Tower by the witch (this witch has made no previous appearances in the series), while she waits for the knight (once again, first time on the show) to climb the tower and rescue her. Afterwards, the knight kisses Starfire on the hand. Robin then says how unsanitary that is. Starfire then says that is "the nice gesture" and kisses Robin on the hand. Robin then says he will never wash that hand again, as Cyborg asks how he is going to keep it clean and Robin replies "I will put this bag over it!" and puts a bag on his hand. The episode hops to 3 months later with Robin walking into the room. The bag is still over his hand.
(Plot to be completed)
Characters
Robin's Hand Zombie (debut)
Octopus (cameo)
Waiter (cameo)
Waiter #2 (debut, cameo)
Trivia
This episode was briefly discussed at the Teen Titans Go! panel at WonderCon 2017.
In the episode, Robin is shown to have a normal hand, however in "Baby Hands" and in "History Lesson", he is shown to have baby sized hands.
This is Mammoth's second appearance in the fourth season. His first appearance in the season was in "The Streak".
This episode was premiered one year after "Bottle Episode".
Continuity
Robin's one-sided relationship with Starfire and her not showing any sign of romantic affection towards him is once again shown in the series.
References
The episode title could be a possible reference to iZombie, which is a popular show on The CW channel.
When Robin's hand fall off and came to life was a possible reference from the 1995 horror film Idle Hands.
Robin was struggling to get his hand in the bag, referencing to the famous Pokémon Sun and Moon meme, Get in the bag, Nebby.
Errors
Running Gags
Gallery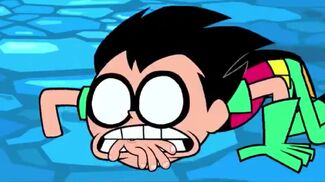 The image gallery for Hand Zombie may be viewed here.