The Grim Reaper,
sometimes referred to as 'Death', appears in the episode
Hey Pizza!
. So far, he appears as a neutral character. He appears at the construction site, peering from a shoddy wooden fence after he is mentioned by one of the old people at the Senior Center. He also appears in the Senior Center as an observer, waiting for one of them to die.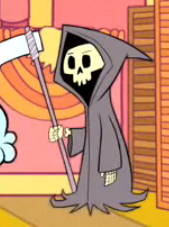 Appearances
Trivia
His origin is unknown, though his appearance is based on as a typical pop culture depiction of a Grim Reaper - a skeleton wearing a long, black cloak holding a scythe.
The Grim Reaper exists in the DC universe, as a teenage goth girl.
It is unknown if he has any relations with Death.
Ad blocker interference detected!
Wikia is a free-to-use site that makes money from advertising. We have a modified experience for viewers using ad blockers

Wikia is not accessible if you've made further modifications. Remove the custom ad blocker rule(s) and the page will load as expected.