AHH! Robin...you're aren't wearing any pants.

---Gizmo, Laundry Day

Gizmo is one of the main antagonists of Teen Titans Go!, as he is a member and team leader of the H.I.V.E. Five. Gizmo made his debut in the episode Laundry Day.
Bio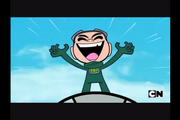 Gizmo first appears in the episode Laundry Day, where he 
made a robot army to take over Jump City, 
but soon retreated when he saw Robin naked and flew away with his robot army.
In
Super Robin
, Gizmo appeared with the H.I.V.E. Five. He was easily defeated by
Cyborg
by a single missile.
Gizmo joined the H.I.V.E. on their many missions to attack the city, mostly by robbing banks. He was a star player on the H.I.V.E. Fivers dodgeball team in Artful Dodgers. Gizmo is known to occasionally strike out on his own, like in The Left Leg, where he attempted to conquer Jump City with his giant robot army from Laundry Day. He is also Cyborg 's rival.
Appearance
Gizmo is a little shorter than the average five year old, standing at three feet and two inches, and weighs a bit above average at fifty-five pounds. He is bald, but grey stubble from his buzzed hair is showing in some episodes. His eyes are white and have no pupils. He also wears green goggles, and a silver backpack with all of his gadgets inside of it. His entire costume is a dark-green one-piece suit with built in shoes. 
Powers and Abilities
Appearances
Season 1
Season 2
Trivia
Gallery 
The gallery for Gizmo can be viewed here.