"Flashback" is the forty-eighth and forty-ninth episode of the fourth season of Teen Titans Go! and the two-hundred-fifth and two-hundred-sixth overall episodes of the series.
Summary
Part 1: A flashback reveals how Robin formed the Teen Titans.
Part 2: A flashback reveals how Robin changed from mild-mannered sidekick to quick-tempered leader.
Plot
Part 1
The first part of the episode begins with Robin bursting in the Titans living room to talk about Tuna and how "dangerous" it is, but none of his team mates are listening to him; Beast Boy in the transformation of a cat is clawing at the Titans' couch, Raven has brought in a demon from another dimension and Cyborg and Starfire are doodling on the window, when Robin frantically tells them stop Starfire uses her eyes to burn a hole through the window, as usual, this angers Robin, and he yells at his team, Raven says he was not that hot tempered when he first became leader, so Beast Boy whispers in Robin's ear "Flashback, bro!"
In the flashback, a no pants and elf boot Robin has moved from Gotham to Jump City. But Robin is immediately beaten up by various villains so Robin decides to form four members and set up a team called the Teen Titans and organise the try outs to see who is worthy. First, Robin sees Kid Flash in a table tennis court winning hundreds of points. This impresses Robin, and he gives Kid Flash a flyer, to which he accepts. Robin then spots Aqualad who is surfing on water and gives him a flyer. Next Robin goes to Speedy who is good at archery he too accepts a flyer, but accidentally hits Robin with one of his arrows. Robin sees Bumblebee a superhero who can communicate with Bumblebees, she accepts a flyer but Robin is stung by bees.
Then Robin finds Raven a half-demon and daughter of Trigon, where she is destroying Jump City, Robin then gets angry at Raven and tells her to stop, she then accepts a flyer. Robin tracks down Starfire an alien princess who he quickly develops a crush on her, however, Starfire is trying to recover a kitten only for her to reveal she eats kittens and cats after her wisecracking TV friend (ALF Reference) Robin then snaps at Starfire and tells her Cats are pets and she abandons eating kittens, she then accepts a flyer. Robin then encounters Beast Boy who can shapeshift into animals, when Robin asks for him to join him he says he will join him for lunch, but the flyer clearly says NO LUNCH on it.
Part 2
TBA
Characters
Trivia
This is the seventh half-hour special of the series. The previous ones were "Two Parter", "Operation Dude Rescue", "The Streak", "BBRAE", "Justice League's Next Top Talent Idol Star" and "The Self-Indulgent 200th Episode Spectacular!".
This episode marks Speedy's first speaking appearance since his debut in "The Date".
Even though three more episodes of the fourth season premiered after, this episode was the last to be produced in the season, which means it is basically the season finale.
At the end of the episode, the Octopus is seen with a hat and suitcase putting up a sign that reads, "ROCK FOR RENT," before it leaves the rock in front of the Tower. This means that this is indeed the end of the season and that another animal will replace the octopus in the next one.
A sneak peek of part 2 from this episode was shown BEFORE Cartoon Network announced this episode.
As Kid Flash hobbles away at the end of the flashback, he suggests that he, Aqualad, Speedy, and Bumblebee should form their team on the East Coast, referring to the Titans East team.
As of this episode, all members of the Titans East have been seen in the Titans Tower.
Continuity
Cyborg's "Fleshy Guy" persona from "Real Boy Adventures" is seen again for the second time in the series.
Cyborg's origin story in this episode contradicts the telling of his origin story in previous episodes. Rather than receiving the robot parts from his father, the Titans take an injured Victor Stone to the hospital to get emergency treatment from doctors.
This episode contradicts how the Titans first met as shown in the episode, "Baby Hands".

It is possible that the flashback in Baby Hands is only Robin's fantasy.

In the opening, Starfire and Cyborg are together engaged in juvenile shenanigans, much like in past episodes such as "Hose Water", "Shrimps and Prime Rib", and "Booby Trap House".
This isn't the first episode where Starfire was shown to have an appetite for cats. In "The True Meaning of Christmas", Starfire cuddled a gingerbread cat before eating it.
ALF and his cat-eating tendencies was first mentioned in "Oil Drums" by Robin.
Kid Flash does the Pee Pee Dance while waiting for his turn in the bathroom.
Robin once again breaks Kid Flash's leg, like in "Multiple Trick Pony" and "The Streak".
One of the couples from "BBRAE" are seen at the beginning of the first part of this episode.
The Justice League image on the puzzle is the same image used on a poster seen in "Justice League's Next Top Talent Idol Star", except it has a different background color.
The little black cat first seen in "The HIVE Five" makes a cameo in this episode, which marks it her third appearance in the fourth season and her fifth overall series appearance.
References
Starfire repeatedly mentions that she was inspired to eat earth felines because of the advice from a "wise-cracking TV alien-friend". She is likely referring to ALF, the cat-eating alien from the 1980s sitcom of the same name.
Among Starfire's doodles of cats is one dressed like Catwoman.
One of the bad guys who kicks Robin's butt at the start of the flashback is Mr. Freeze.
Other Batman villains are referenced in the episode, such as Bane, whose masked face can be seen on a gym. Also, Harley Quinn, the Joker, the Riddler, Catwoman, and Professor Pyg left graffiti at the City Park. And Robin's training dummy appears to be modeled after the Scarecrow.
Robin's puzzle is a 100 piece jigsaw puzzle of the Justice League.
Batman and Commissioner Gordon do a wall climb in a similar fashion to the late Adam West version of Batman.
Robin's rant about kingfish containing mercury could be a reference to the song "Mercury" by Phish.
Errors
Even though Victor Stone is a trained athlete, he tired himself out after running a few feet during speed trials.
Robin wears his classic Robin uniform in this episode which resembles the Silver Age Robin that made an appearance in "The Best Robin" which disregards the continuity from it.
Running Gags
The Titans making Robin lose his cool in the flashback, causing him to lose his temper.
Robin grinding his teeth, becoming muscular and his hair blowing upwards when losing his temper.
Starfire trying to eat cats.
Victor Stone following Robin but Robin refusing to give Victor Stone a flyer since he's not a superhero.
Transcript
The transcript for "Flashback" can be found here.
Gallery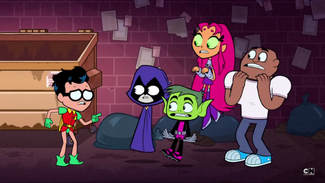 The image gallery for Flashback may be viewed here.