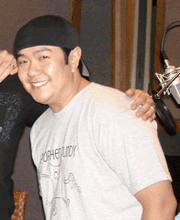 Eric Bauza (born on December 7, 1979) is a Canadian-American who voices the Titan Chef announcer in "Burger vs. Burrito" and Second Santa in "Second Christmas".
Character Voices
Roles outside Teen Titans Go!
Stimpy (Ren and Stimpy Adult Party Cartoon)
Slip & Slide D'Peel (Coconut Fred's Fruit Salad Island)
Rodolfo/White Pantera (El Tigre)
Tunnel Rat (G.I. Joe: Resolute)
Razoff (Rayman 3: Hoodlum Havoc and The Professor)
Pipo Monkeys (Ape Escape)
Lord Takagami (Dick Figures: The Movie)
Dr. Psychobos, Greymatter,Fistrick, Articguna, Chromastone, Diamondhead,Upchuck and Eatle (Ben 10 Omniverse)
Marvin the Martian (The Looney Tunes Show)
Belly Bag, Guillermo, Eric, Xarna: She-Warrior of the Apocalypse, Hot Dog Person (Uncle Grandpa)
Chet (Turbo FAST)
Red-Face Kwan, Wu Sung (Hero: 108)
Seagull #1 (The SpongeBob Movie: Sponge Out of Water)
Paladum, Mixamals (Mixels)
Chance, Allegro, Prince Charming (The Powerpuff Girls 2016)
The Shalmon (SpongeBob SquarePants episode "Sandy's Nutmare)"
Buhdeuce (Breadwinners)
Hoppus, Phil, King Rexxtopher (Mighty Magiswords)
Ad blocker interference detected!
Wikia is a free-to-use site that makes money from advertising. We have a modified experience for viewers using ad blockers

Wikia is not accessible if you've made further modifications. Remove the custom ad blocker rule(s) and the page will load as expected.