Driver's Ed
Season:
1
Episode:
3
Original Airdate:
Tuesday, April 30, 013
Premiere Time:
7:30 PM
Produced By:
Aaron Horvath
Michael Jelenic
Written By:
Tab Murphy
Directed By:
Luke Cormican
Production Code:
102a
Chronology
Previous Episode:
Pie Bros
Next Episode:
Dog Hand
Video

01:33

Teen Titans Go DRIVER'S ED Official Clip
"Driver's Ed" is the third episode of the first season of Teen Titans Go!, and the third overall episode of the series.
Summary
Robin gets his driver's license suspended after wrecking the Batmobile and must take a Driver's Ed course. What Robin doesn't know is that his driving instructor, Ed, is a robber that has some sinister tricks up his sleeve where he uses Robin as a getaway driver.
Plot
Robin tricks the others to drive him around town for his selfish needs by telling them it's an emergency, causing Beast Boy to lose his game, Cyborg to lose some of his data, Silkie to get swollen up and a demon getting away. The next time Robin needs someone to drive him around town no one wants to take him. He tells the others that his license is suspended after he wrecked the Batmobile, telling them it was a fender bender. He also tells them he met a guy on the Internet that can get his license back. Cyborg, because of his data loss, doesn't recognize Starfire. Raven warns Robin that she does not think this is a good idea.
Robin goes where his instructor told him to meet. On the car window there was a paper that said to start the engine. A man exits a bank that was robbed with a bag of money, puts the bag in the trunk and gets in the car. He introduces himself as Ed his instructor. Ed gives many deductions to Robin during his test, causing him to fail. Robin takes the test again multiple times, but ultimately fails becuase Ed keeps using him to rob banks. One day, the Titans are at a cafe and notice Robin in front of a jewelry store when he was supposed to meet his Driver's Ed instructor. Ed robs the store and gets in the car. Raven tells the others that he is his getaway driver. Starfire tells the others that Robin must not know that he is. They decide to chase Robin to warn him about Ed. Robin notices them, but thinks that they are going to make fun of him, so he speeds away from him. Later, after a wild chase (with Cyborg at the wheel of the T-Car), Robin stops the car and Ed gets mad at him for his wild driving and tells him the truth, and tells him the reason he kept failing Robin is to keep him as a getaway driver. He also said he never wanted him as a getaway driver again. Robin tells Ed he knew, and that is why he didn't tell him about the Demon that is behind him. The Demon drags Ed into its dimension and all is back to normal as Robin celebrates his success for passing the driving test.
Characters
Trivia
In a four-day period, Robin annoyed his friends by making them drive him to so-called "emergencies":

Beast Boy took him to Burger Splode! for a monstrous appetite for a cheeseburger, fries, a milkshake, and a small side salad.
Cyborg took him to Game Bear to get a copy of Dog Simulator 2000 (a parody of the Microsoft Simulator series).
Raven took him to the beach so he could surf.

Raven is also revealed to be able to drive without using her hands.

Oddly Starfire and Raven drive Robin when they could've just flown him to his destination.
It is revealed that Robin's mask is actually a pair of glasses and he has tiny dots for eyes.
When Robin met Ed at the casino a sign said Mumbo Jumbo was going to perform that day.
This is the first appearance of the T-Car in Teen Titans Go!
References
Beast Boy plays a video game where the main boss is a large brain, giving a nod to the Doom Patrol's nemesis: The Brain.

It can also reference the Metroid series, the character Beast Boy plays is a nod to Samus Aran while the brain boss is a nod to Mother Brain.
The game over message "You Are Die" is a reference to some older video games having poor translations when they were ported to the US, like "All your base belong to us"
It can also be a reference to the iconic X-Men line, "Welcome to die."

Silkie eating the zorkaberries and becoming puffy is a reference to the original Teen Titans "Can I Keep Him?" where Silkie grows to a gigantic size after Starfire feeds him the berries.
The face of DC Western hero, Jonah Hex, is on the casino that Ed robs. Also, the one performing there tonight was Mumbo Jumbo, a villain from the original Teen Titans series.
The music that Robin dances to in the car is a soundalike instrumental version of Stuntin' Like My Daddy by Birdman and Lil Wayne.
Late in the episode Cyborg, Starfire, Raven, and BB get coffee at a store called "Justice Java" with Superman drinking a cup of coffee on the sign.
During the police car chase scene, the song that's playing is a soundalike to Yakety Sax by Boots Randolph.
When the T-car bounces off the planets, the sounds emulate those of a classic pinball table.
Continuity
The game Robin bought, "Simulator Zoo", also appeared in "Pie Bros".
Raven's demonic red eyes are shown for the first time.
Once again, the BAT-O's stand is shown and Food Bear is shown for the second time since "Legendary Sandwich."
This episode begins the Seagull's running gag.
"Super Robin" is alluded when Robin states that the other Titans laugh at him for not having powers.
Errors
All of the Titans drove the T-Car, even though Cyborg never allowed anyone else drive it in the original series.
On Robin's first drivers test, he is shown to get seven deductions, but has eight. It could be that Ed has given him the extra one but didn't tell him, but at one point he said two deductions.
Robin destroyed the Batmobile by crashing it into a lamp post, however in other media (Such as LEGO Batman 2: DC Superheroes) The Batmobile has shown to be nearly indestructible.
When the Titans are first outside the cafe, Robin and Ed's car are absent, but after Raven notices, they are suddenly in front of the jewelry store.
Running Gags
The demon Raven failed to defeat randomly showing up.
Cyborg being unable to remember who Starfire is.
The same cop keeps blindly shooting at Ed's getaway car.
Ed saying "that's a deduction."
Robin annoyed his friends by making them drive him to so-called "emergencies".
Gallery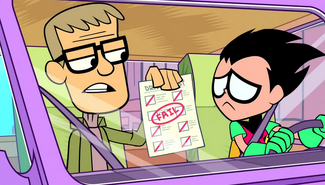 The image gallery for Driver's Ed may be viewed here.
v - e - d Episode Guide
Season 1: April 23, 2013 - June 5, 2014
Legendary Sandwich • Pie Bros • Driver's Ed • Dog Hand • Double Trouble • The Date • Dude Relax • Laundry Day • Ghostboy • La Larva de Amor • Hey Pizza! • Gorilla • Girl's Night Out • You're Fired! • Super Robin • Tower Power • Parasite • Starliar • Meatball Party • Staff Meeting • Terra-ized • Artful Dodgers • Burger vs. Burrito • Matched • Colors of Raven • The Left Leg • Books • Lazy Sunday • Starfire the Terrible • Power Moves • Staring at the Future • No Power • Sidekick • Caged Tiger • Second Christmas • Nose Mouth • Legs • Breakfast Cheese • Waffles • Be Mine • Opposites • Birds • Brain Food • In and Out • Little Buddies • Missing • Uncle Jokes • Más y Menos • Dreams • Grandma Voice • Real Magic • Puppets, Whaaaaat?
Season 2: June 12, 2014 - July 30, 2015
Mr. Butt • Man Person • Pirates • Money Grandma • I See You • Brian • Nature • Salty Codgers • Knowledge • Slumber Party • Love Monsters • Baby Hands • Caramel Apples • Sandwich Thief • Friendship • Vegetables • The Mask • Serious Business • Halloween • Boys vs. Girls • Body Adventure • Road Trip • Thanksgiving • The Best Robin • Mouth Hole • Hot Garbage • Robin Backwards • Crazy Day • Smile Bones • Real Boy Adventures • Hose Water • Let's Get Serious • Tamaranian Vacation • Rocks and Water • Multiple Trick Pony • Truth, Justice, and What? • Two Bumble Bees and a Wasp • Oil Drums • Video Game References • Cool School • Kicking a Ball and Pretending to Be Hurt • Head Fruit • Yearbook Madness • Beast Man • Operation Tin Man • Nean • Campfire Stories • And the Award for Sound Design Goes to Rob • The HIVE Five • The Return of Slade • More of the Same • Some of Their Parts
Season 3: July 31, 2015 - TBA
Cat's Fancy • Leg Day • The Dignity of Teeth • The Croissant • The Spice Game • I'm the Sauce
Unconfirmed Episodes
Squash and Stretch • Scary Figure Dance • Grube's Fairytales • Hey You, Don't Neglect Me in Your Memory • Accept the Next Proposition You Hear • The Teen Titans Go! Easter Holiday Classic • 40%, 40%, 20% • A Farce • The Fourth Wall • The True Meaning of Christmas • Animals: It's Just a Word