David Kaye
is a voice actor in
Teen Titans Go!
who voiced
Death
and Ferryman in "
Salty Codgers
".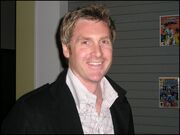 Voices on Teen Titans Go!
Ferry Man
Whimsy Starfire & Robin
Other Characters
Anime
Sesshomaru (InuYasha; reoccurring role)
Cartoons
Optimus Prime (Transformers Animated; main role)
Maxwell Tennyson (Ben 10 2016; main role)
Video Games
Sesshomaru (InuYasha and the Secret of the Divine Jewel)
Optimus Prime (Transformers Animated: The Game)
Trivia
Kaye did return to resume the English voice of Sesshomaru in Inuyasha: The Final Act.
Ad blocker interference detected!
Wikia is a free-to-use site that makes money from advertising. We have a modified experience for viewers using ad blockers

Wikia is not accessible if you've made further modifications. Remove the custom ad blocker rule(s) and the page will load as expected.