Control Freak is a minor reoccurring villain of the Teen Titans who made his debut as a cameo in "Nose Mouth", and has major roles in the episodes "Friendship","The Fourth Wall" and "The Titans Show". He is voiced by Alexander Polinsky.
Bio
Control Freak is an overweight geek who specializes in computers, electronics, and other technologies. He mainly focuses on making himself appear cool instead of using his genius brains to defeat the Titans.
Powers and Abilities
Control Freak has a remote control that he can use to send himself and others into the television world. While inside, the world within the television is a real alternate world, where Control Freak is in full control. The remote also has the power to turn props originating from said television world into his own personal minions. Unfortunately, he is solely dependent on it for his device; if it was nabbed from him, Control Freak is virtually powerless.
As a television buff Control Freak has extensive knowledge about various shows and expert usage of various powers and weapons they're in. In several cases, he uses this knowledge to his advantage in attempts to confound his enemies.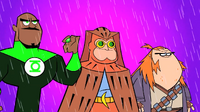 Episode Appearances
Season 1
Season 2
Season 3
Season 4
Games
Trivia
This episode he debuts is strangely similar to the original series episode "For Real", when he challenges the Titans East by casting them into scenarios on television they must solve and escape to prove themselves. Its ending is also similar to that in this episode, except it's the good guys who are zapped right in front of the bad guy instead.
In the original series, Control Freak was not on the Titan's top villains list, despite being a recurring villain.

The list may not have been accurate, however. Strangely, Slade was not on the list, but the list was not viewed up close, so this isn't confirmed.

Control Freak made a cameo appearance in Robin's dream along with Kid Wykkyd, Killer Croc, and Plasmus in Nose Mouth. Although it was his very first appearance, he had no lines and thus is not considered his actual debut.
He is the fourteenth and fifteenth villain from the original series to return, along with Kyd Wykkyd.
He was voiced by Alexander Polinsky in the original series as well.
In the original series he was part of The Brotherhood of Evil.
Also in the original series he was aware of the fourth wall because in "For Real" he knew the episode he last appeared in. (Don't touch that dial) He kept his fourth wall breaking ways as shown in "The Fourth Wall".
When he says goodbye, he always says "Freak out".
Control Freak was also the name from the Oggy and the Cockroaches episode.
Control Freak is apparently aware of the original series and the reboot. As shown in The Fourth wall episode. He even said he was responsible for the reboot and changed style of the series.
Voice in other languages
Bálint Magyar (Hungarian)
 ? (Italian)
Cosmin Sofron (Romanian)
Jakub Szydłowski (Polish)
Wirley Contaifer (Brazil)
Pierre Laurent (French)
Gallery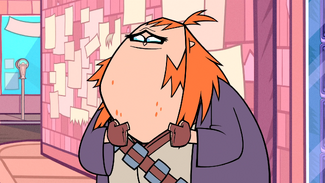 The image gallery for Control Freak may be viewed here.
Ad blocker interference detected!
Wikia is a free-to-use site that makes money from advertising. We have a modified experience for viewers using ad blockers

Wikia is not accessible if you've made further modifications. Remove the custom ad blocker rule(s) and the page will load as expected.