Cloud is a minor character who made a debut in "I'm the Sauce".
Personality
His emotions are controlled with Cloud Mimicry. When he is angered he becomes a thunder cloud. If he is happy he is able to explode to create a rainbow.
Physical Appearance
He looks like a regular cloud. He has yellow eyes with red pupils and he has a blue tounge.
If he's angry he will become bigger and gray.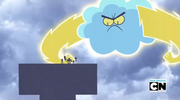 Powers and Abilities
Cloud Mimicry: He has all the abilities of a cloud.
Atmokinesis: He is able to controll weather. He can clear the sky if he feels happy.
Electricity Generation: He is able to shoot lightning bolts.
Storm Generation: He is able to shoot hailstorms from his arms.
Electricity Mimicry: He is able to make lightning arms.
Bodily Reconstitution/Reconstruction: He is able to reform him self.
Rainbow Generation: He is able to create a rainbow.
Episode Appearances
Season 3
Trivia
TBA
Ad blocker interference detected!
Wikia is a free-to-use site that makes money from advertising. We have a modified experience for viewers using ad blockers

Wikia is not accessible if you've made further modifications. Remove the custom ad blocker rule(s) and the page will load as expected.