Cartoon Network



Headquaters Located:

Atlanta, Georgia

Founder:

Betty Cohen

Year Founded:

1992

Parent Organization:

Time Warner
Turner Broadcasting System
Cartoon Network
 (stylized as
CARTOON NETWORK
and
abbreviated
CN
for short) is an American based television channel that broadcasts animated cartoons around the world- basically, a "cartoon network". The station first started premiering shows in 1992 to only a couple hundred TV sets. Nowadays, Cartoon Network is available in 96 million households and stands as a firm rival to another cartoon channel superpower, Nickelodeon.
Along with countless other animated shows, CN is the primary broadcaster of Teen Titans Go! and it's previous incarnation (formerly). The DC Comics superhero comedy frequently is aired on the network, both in the eastern and western factions, and despite all the negative criticism it receives, it is one of the most current popular and most successful cartoons on the channel.
History
In early February of 1992, Turner Broadcasting System, a Time Warner subordinate, announced the upcoming arrival of a channel to premier its collection of funny animations. The first ever debut of the new station, "The Cartoon Network", ran a short cartoon, The Great Piggy Bank Robbery. As the first ever 24 hour, exclusively cartoons-only channel, it reran the old Warner Bros. Looney Tunes and Merrie Melodies shorts. High ratings and package deals from other television networks such as TNT and TBS boosted Cartoon Network to be regarded in 1994 as the "the fifth most popular cable channel in the United States", which is surely debatable.
While still airing the classics such as the pre and post-WWII Popeye and The Tom and Jerry Show, CN released its first ever original cartoon series in 1993, The Moxy Show. Hanna-Barbera worked with it's previously owned Cartoon Network Studios to produce What a Cartoon! (aka Cartoon CARTOONS), which became the father of many beloved shows from cartoons. From the numerous animated shorts broadcasted by What a Cartoon!, the well known Dexter's Laboratory, Johnny Bravo, Cow and Chicken, The Powerpuff Girls, and many more series were born as mere spinoffs.
Throughout the 2000s, multiple cartoons started popping up all over Cartoon Network and its offshoot stations, Toonami, [adult swim], and Boomerang. Ed, Edd n Eddy from 1999 garnered a lot of popularity for the channel. Time Squad, Evil Con Carne, Camp Lazlo, and a bunch of other lesser known, considerably failed shows were present, but critical acclaim was won in the early-mid 2000s with Codename: Kids Next Door, Samurai Jack, and don't forget Teen Titans (2003). So many excellent cartoons were produced that they can't all be listed here.
Aside from differentiating time blocks and a special movie event here and there, Cartoon Network currently airs decent cartoons such as Adventure Time, Steven Universe, The Amazing World of Gumball, and then of course the highly mixed-reviewed Teen Titans Go!, etc.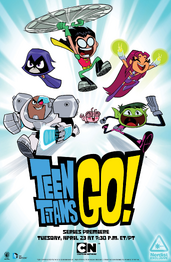 In April of 2013, "Legendary Sandwich", the first episode of Teen Titans Go!, premiered on Cartoon Network with over 2 million viewers which is average. The new superhero series was derived from the successful Teen Titans series back from 2003. Although Teen Titans Go! retains the cast of the heroes (and worthy-to-note, voice actors), crime fighting is not nearly as frequent as in the original. Comedy is the focal point of the episodes, and for this reason, CN has received a lot of flack about the reboot. Mostly from now adult-viewers, there's widespread complaint, which is often quite nasty, that the show isn't a worthy successor to Teen Titans. Major rating websites, such as Rotten Tomatoes, have given it a pretty unsatisfactory 40% score.
Even with these recurrent comments, Teen Titans Go! has earned an above average viewership as far as Cartoon Network shows reach. The series is regularly broadcasted on the east and west channels. Season 4 is currently in the making with CN premiering the newest episode at 6:00 PM on Fridays. On September 25, 2017, the series confirmed to get a theatrical released movie which will debut in theaters on July 27, 2018.
Cartoon Programs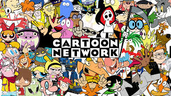 Below is a short list of some of the most outstanding animated shows that Cartoon Network has produced since it was first founded. Only the top 7 will be shown, according to ranker.com, so if you want to see a complete list (well over 200 shows long), click here.
Teen Titans: (2003) The memorable superhero cartoon show that brilliantly mixed action, drama, and laughs all together. Forbearer of Teen Titans Go!.

Teen Titans Go!: (2013) A toned-down spin-off of the original 2003 Teen Titans.

Dexter's Laboratory: (1996) A young genius, who can be evil at times, builds a secret lab for his many wondrous and mind-boggling inventions. His most sinister enemy is Dee Dee, his annoying sister.
The Powerpuff Girls: (1998) A lab accident involving Chemical X brings forth 3 little girls, Blossom, Buttercup, and Bubbles with super-powers, devoting their lives to fighting crime, but in a "cute" manner.
Ed, Edd n Eddy: (1999) Three boys, who give the series its name, constantly work out schemes to make money so as to purchase their favorite thing in existence, jawbreakers. They fail consistently.
Foster's Home for Imaginary Friends: (2004) An 8-year-old boy named Mac rediscovers his imaginary friend, Bloo, at an imaginary friend orphanage. Yes, as you imagine (heh heh), they have adventures.
Chowder: (2007) Young Chowder dreams of becoming a chef someday. He works as an apprentice to famous chef Mung Daal who is always offering Chowder advice on love and cooking. Panini also works in the kitchen and thinks Chowder is her boyfriend, while Shnitzel is a rock monster who doesn't think much of Chowder and his smelly best friend Kimchi the stinky cloud.
Current Programs
Teen Titans Go!
Steven Universe
Mighty Megiswords
Clarence
Uncle Grandpa
Adventure Time
The Powerpuff Girls (2016 series)
Justice League Action
Ben 10 (2017 series)
The Amazing World of Gumball
Regular Show
OK K.O.! Let's Be Heroes
We Bare Bears
UniKitty (new series)
Upcoming Shows
Craig of the Creek
Summer Camp Island
Apple and Onion
Total Drama Daycare
Spinoff Channels
In addition to the main two channel slots, Cartoon Network has also produced subsidiary networks, in which the animated shows usually different from the regular style and message.
[adult swim]: A more mature and obscene outlook on cartoons, airing at night from 8:00 PM to 6:00 PM. Kids, beware. Started up in 2001.
Toonami:A combo of "cartoon" and "tsunami", Toonami broadcasts regular cartoons and its selling point, Japanese anime. Revived in May 2012.
Boomerang: Originally a part of the CN channel, Boomerang separated in 2000, and shows classic cartoons from the Baby Boom era (Teen Titans included)
Boomerang (Turner): On December of 2014, Turner bought Boomerang, resulting this channel showing more classics during morning, night, and mid-night like Dexter's Lab, The Flintstones, Tom & Jerry, etc.
Cartoon Network on Demand: Launched in 2002, it's basically what you would expect; the latest CN episodes can be watched whenever, on demand! For a fee...
Miscellaneous
Other Media
The official website for Cartoon Network, CartoonNetwork.com, registered in 1998, lets web surfers create an account to play games, watch episodes, and that sorta thing.
Available for mobile devices is the Cartoon Network App, which offers much of what the website does: episodes, games, and schedules for TV.
A video game for the Nintendo 3DS system was released in 2011, titled Cartoon Network: Punch Time Explosion (called Cartoon Network Punch Time Explosion XL for the Wii, PlayStaion 3, and Xbox 360), in which several Cartoon Network universe characters would fight head to head. It was kinda like Nintendo's popular Super Smash Bros. series.
Trivia
Betty Cohen, an American business woman, founded and ran CN as its president from 1992 to 2001.
The network's current slogan is "Are You CN What We're Sayin'?", with that play on words, nicely done.
Teen Titans Go! and Teen Titans are not original Cartoon Network series (meaning that they are exclusively produced by CN alone (also known as Cartoon CARTOONS). They are partially ran by DC Entertainment and Warner Bros. Animation.
Gallery