Brother Blood
Comments

2
238pages on
this wiki
Brother Blood
Name
Brother Blood
Alias
Sebastian Blood
Sex
Male
Species
Human
Friends
H.I.V.E. Five (students)
Enemies
Cyborg
Occupation
Villain

H.I.V.E. Headmaster

Residence
H.I.V.E. Academy
Voiced By
John DiMaggio
Brother Blood is a villain of the Teen Titans and the archenemy of Cyborg. He made his debut in the episode Legs.
Bio
Brother Blood is the villainous headmaster of the H.I.V.E. academy, who took control of the academy once Slade abandoned the academy and the headmistress disappeared. Blood is an extremely dangerous foe, with an army of deadly drones. He is very intelligent, cunning, and manipulative.
For unknown reasons, Blood wanted to gain control of Titans Tower's weapons arsenal. In order to do this, he would need voice recognition codes from all 5 of the Teen Titans. Blood carefully planned for every possible outcome in his ultimate trap for the Titans. He send out a homing signal, to lure the Titans to a warehouse near Jump City's docks.
Robin, Starfire, and Raven responded to the distress call. He trapped them all in a cage, and threatened to torture them all with "Pain Bot" if they did not give him the voice codes he needed. All three of the terrified titans immediately gave him the codes in order to avoid the torture. Later, Blood hacks the Titans Tower computer and invites the other two Titans go come save their friends. When the other titans arrive, they refuse to say anything but "Waffles". Blood tortures them, but they refuse to give in, and when the other three titans begin to sing the "Waffle Song" he goes crazy, and flees on pain bot screaming.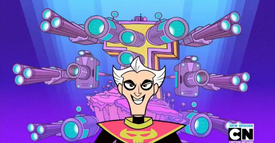 Appearance
Brother Blood has white, pointy hair. He has a black suit, with red and gold armor. He has red gloves and red boots. He has a devious villain smile, and thick eyebrows. He also has dark lines under his eyes.
Powers and Abilities
Quotes
Episode Appearances
Trivia