"Beast Girl" is the forty-seventh episode of the fourth season of Teen Titans Go! and the two-hundred-fourth overall episode of the series.
Summary
As the Titans deal with Madame Rouge, Beast Boy is excited to meet his female counterpart Beast Girl.
Plot
TBA
Characters
Trivia
Prior to the premiere of the episode, fans of Teen Titans Go! were asked to speculate what the so-called Opposite Titans would look like. Many fans drew various artworks of their own ideas for Opposite Titans, while other fans used an app on the Cartoon Network site to build their own Opposite Titan Team using ready-made illustrations. Among those illustrations were the actual Gender Opposite Titans from the episode.
Although Madame Rouge has previously appeared in the comics based off the show, this episode marks her first appearance in an episode of the series, with Hynden Walch reprising her role from the original series.
It is revealed that the Titans have genderbent counterparts.
This episode has a similar title to a Season 2 episode "Beast Man".
This is the first episode to premiere in 2018.
This episode premiered on President's Day.
This episode reunited Cree Summer and Tara Strong as they did the voices of Susie Carmichael and Dil Pickles in Rugrats and in its spin-off series All Grown Up! as well as doing the voices of Foxxy Love and Princess Clara in Drawn Together.
The other Opposite Gender Titans were voiced by Scot Menville (who voiced Gender Opposite Raven), Khary Payton (who voiced Gender Opposite Starfire), Tara Strong (who voiced Gender Opposite Robin), and Hynden Walch (who voiced Gender Opposite Cyborg)
Various Russian stereotypes are associated to Madame Rouge in this episode. She plans to replace all pizza with pierogis and borscht, her hideout appears to be modeled after Saint Basil's Cathedral in Moscow, and she traps the Titans inside of Russian nesting dolls.
Where the Gender Opposite Titans came from is still a mystery. But it can be speculated that they may have come through a mirror since Beast Girl mentions that she was looking at one before bumping into the other Titans.
This episode premiered in a block of other Teen Titans Go! episodes that had different kinds of opposite Titans, such as "Robin Backwards" (Bizarro Titans) and "Snuggle Time" (Super villain Titans).
This episode was originally titled "Opposite Titans!"
Some of the Opposite Gender Titans say catchphrases that sound similar to what the Titans normally say. Opposite Gender Raven casts spells by saying, "Mazarath Zetrion Tinthos", Opposite Gender Starfire said Zhama Lamma Shu-Mu, and Opposite Gender Cyborg yells "Yoobah" ("Booyah" with the letters switched around).
Continuity
The Titans are able to recognize Robin's distinct cries and whimpers of pain as they are beating him up (thinking he's Madame Rouge). Robin did actually cry and whimper exactly the same way in a previous episode, "Squash & Stretch", when the Titans were beating him up to see if inflicting violence was funny.
References
On the pillars of Madame Rouge's hideout are images of KGBeast, a Russian nemesis of Batman.
Swamp Thing and Aquaman can be seen on shampoo bottles in the cabinet that Beast Boy was hiding inside.
Starfire's male counterpart resembles Harold and Sam from Total Drama who are both voiced by the same actor.
This episode is similar to the Futurama episode, "Neutopia".
The "Opposite Gender Titans" concept is taken from Rule 63 of the "Rules of the Internet", which states that every male character has a female counterpart, and vice-versa. Websites devoted to art of such opposite-gender characters exist.
"Beast Girl" is an authentic indirect reference to the DC Multiverse, the alternative universe of characters from the DC Comics publishing house with an inverted genre, better known as Earth -12.
Errors
One of the reasons Beast Girl thinks that she's Madame Rouge is that she likes pierogis. But moments earlier she had asked about who Madame Rouge even was, so it was not likely she would have known her eating habits.
Beast Boy's true origin story was briefly explained in the episode.
Running Gags
Beast Boy and Beast Girl thinking one another or themselves was Madame Rouge.
Gallery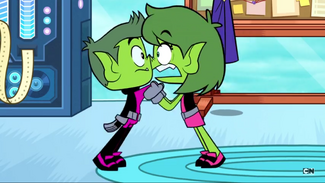 The image gallery for Beast Girl may be viewed here.