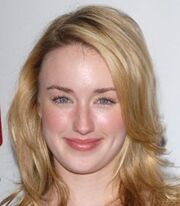 Ashley Suzanne Johnson (born on August 9, 1983) is an American voice actress who voices Terra in Teen Titans Go! as well in it's previous 2003 series Teen Titans.
Her other notable voice roles include voicing Jinmay in Super Robot Monkey Team Hyper Force Go!, the teenage Gwen Tennyson in the Ben 10 franchise from Ben10: Alien Force onward, Gretchen Grundler in Disney's Recess, and Ellie in the Playstation 3 game The Last of Us, and Renet in Teenage Mutant Ninja Turtles (2012 series).
Characters
Main Role
Gwen Tennyson (Ben 10: Alien Force, Ben 10: Ultimate Alien)
Recurring Role
Terra (Teen Titans and Teen Titans Go!)
Gwen Tennyson (Ben 10: Omniverse)
Renet (Teenage Mutant Ninja Turtles)
Trivia
Greg Cipes often refers to her as his "cartoon girlfriend" due to the fact she has always voiced his love interests in many other shows.
Ashley Johnson's Social Media Accounts
Teen Titans Go!
List of characters voiced by Ashley Johnson.
Ad blocker interference detected!
Wikia is a free-to-use site that makes money from advertising. We have a modified experience for viewers using ad blockers

Wikia is not accessible if you've made further modifications. Remove the custom ad blocker rule(s) and the page will load as expected.