Aquaman (Orin) is a minor character in Teen Titans Go! who made his debut in Matched.     
Biography
Aquaman is half human and half Atlantean. He has the power of telepathy, and can communicate with the creatures of the sea. He is an extremely fast swimmer, being able to travel at over 10,000m/s underwater. His Atlantean physiology also grants him super strength, invulnerability and many other superhuman powers. He also has limited hydrokinesis. He also wields a trident, for he is the king of Atlantis.
Appearance
Aquaman wears an orange, scaled long-sleeve shirt with green gloves and leggings. He has blue eyes, a cleft chin and gelled blonde hair.
Episode Appearances
Season 1
Season 2
Season 3
Season 4
Comics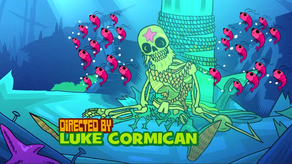 Trivia
Gallery
Ad blocker interference detected!
Wikia is a free-to-use site that makes money from advertising. We have a modified experience for viewers using ad blockers

Wikia is not accessible if you've made further modifications. Remove the custom ad blocker rule(s) and the page will load as expected.