Appetite for Disruption (Season 2, Part 1) is the third DVD release of Teen Titans Go! containing 286 minutes of episodes from the second season. It was released on April 14, 2015 in the United States.
Synopsis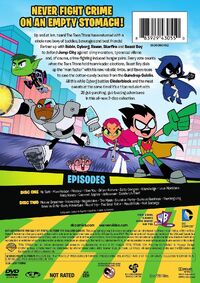 Robin, Starfire, Raven, Beast Boy and Cyborg return for a wacky second season of all-new, comedic adventures, in Teen Titans Go! Season 2. A spin-off of the 2003 breakout blockbuster hit from Warner Bros. Animation, Teen Titans Go! follows everyone's favorite super heroic teen team of Robin, Cyborg, Raven, Starfire and Beast Boy in all new, comedic, 11-minute adventures highlighting the hijinks they get into when they aren't out saving the world. In between the big fights with super villains, the team's dynamic and personalities ensures that even down time at the Tower or a trip to the movies promises extreme (and extremely funny) fun.
Disc 1
Disc 2
Bonus Features
The Bonus Features on Disc 2 include some of the previously unreleased New Teen Titans shorts. "Bad Dad" is noticeably extended, including an appearance from Slade at the end wishing the viewers a Happy Father's Day. "Burping Contest" is cut short, ending after a shot of Starfire and Robin, omitting Cyborg's response to Raven's epic belch and her looking at the camera.
Cyborg the Lifeguard
Lightning Round
Red X Unmasked
Bad Dad
Burping Contest
Utility Player
Gamma Rays and You
Stream of Consciences
Taped Before a Live Studio Audience
Groundhog Minute
Main Cast
| Voice Actor | Character(s) |
| --- | --- |
| Scott Menville | Robin (main)/Nightwing, The Brain, Carrie Kelly, Tim Drake, Silver Age Robin, Jelly Roll, Birdarang |
| Khary Payton | Cyborg (main), Sticky Joe, Vegetor, George Washington, Buttermilk Biscuit, Pain Bot |
| Hynden Walch | Starfire (main), Blackfire, Sparkleface, Mother Nature, Twin Destroyers of Azarath, Starfire's Knowledge |
| Tara Strong | Raven (main), Master of Whistles, Butterbean, Scary Teri, Twin Destroyers of Azarath |
| Greg Cipes | Beast Boy (main), Virus, Gumdrop Goblin |
Supporting Cast
Ad blocker interference detected!
Wikia is a free-to-use site that makes money from advertising. We have a modified experience for viewers using ad blockers

Wikia is not accessible if you've made further modifications. Remove the custom ad blocker rule(s) and the page will load as expected.