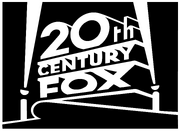 The Twentieth Century Fox Film Corporation (spelled as Twentieth Century-Fox Film Corporation with hyphen used from its inception until 1985, stylized as 20th Century Fox) is an American film studio, distributor and one of the six major American film studios. Located in the Century City area of Los Angeles, just west of Beverly Hills, the studio is currently owned by 21st Century Fox and is formerly owned by News Corporation.
20th Century Fox's film series include the Ice Age, Rio, X-Men, Wolverine, Die Hard, Home Alone, Planet of the Apes, Night at the Museum, Taken, Maze Runner, Peanuts, The Omen, Independence Day, Deadpool, Alien, and Alvin and the Chipmunks. The studio is also credited for distributing first two Star Wars trilogies and James Cameron's Avatar and Titanic. Television series produced by Fox include The Simpsons, Family Guy, American Dad!, Futurama, M*A*S*H, The X-Files, How I Met Your Mother, Modern Family, Empire, and 24. Among the most famous actresses to come out of this studio were Shirley Temple, who was 20th Century Fox's first film star, Alice Faye, Betty Grable, Gene Tierney, Marilyn Monroe and Jayne Mansfield. The studio also contracted the first African-American cinema star, Dorothy Dandridge.
20th Century Fox is a member of the Motion Picture Association of America.[2] In 2015, 20th Century Fox celebrated its 80th anniversary as a studio.
20th Century Fox Home Entertainment who handle the TTG Home Video Releases for MGM, Warner Bros. and DC Comics.
Ad blocker interference detected!
Wikia is a free-to-use site that makes money from advertising. We have a modified experience for viewers using ad blockers

Wikia is not accessible if you've made further modifications. Remove the custom ad blocker rule(s) and the page will load as expected.